The Japan Foundation, Budapest:Spectacular Opening of the Japan-Danube Friendship Year 2009
The Japan Foundation, Budapest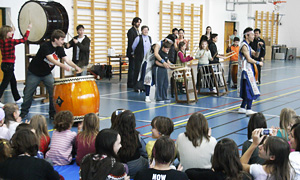 In 2009, Japan and Hungary will celebrate the 140th Anniversary of the establishment of diplomatic relations and the 50th Anniversary of the resumption of diplomatic relations. Japan has designed the year 2009 as the "Japan-Danube Friendship Year 2009" to further strengthening the friendly relations with four countries along the Danube: Hungary, Austria, Bulgaria, and Romania. Various commemorative events will be held throughout the year.

In Budapest, the performance of "Yo-soro" was held on January 28 and 29 at the Franz Liszt Academy of Music as the opening event of this anniversary. Two-day performance of the quartet consisting of two Japanese drums, tsugaru-shamisen, and bamboo-flute gathered almost-capacity crowd, thanks to the broadcasting by a news program on the state-run television station. The audience was fascinated by dynamic beats of drums and resonant sounds of shamisen and bamboo-flute. The next day, "Yo-soro" members gave a workshop at Balint Marton Primary & Secondary School, an integrated education school famous for its Japanese language education. 700 students of the whole school and teachers were excited about this rare opportunity.

The following and many other events have already been scheduled: an exhibition "WA: The Spirit of Harmony in Contemporary Japanese Design" will be held at the Museum of Applied Arts in Budapest in April through May; an exhibition "The Spirit of Budô: The History of Japan's Martial Arts" will be held in Keszthely, a sightseeing resort in southwest Hungary, and in Budapest in July through August. In November, although it is not an event hosted by the Japan Foundation, Elisabeth Bridge connecting Buda and Pest across the River Danube will be illuminated by Japanese lighting artist, Mikiko Ishii. This illumination will be restored by the City of Budapest after the Friendship Year ends. In the past, the paths of Japan and Hungary have not crossed so often; today, however, people in Hungary are increasingly interested in Japan through Japanese automobile-related manufacturers, or Japanese manga, anime, and Japanese-food restaurants that have become popular among the youth.

The Japan Foundation, Budapest is not a large facility, but we are hoping to appeal to Budapest citizens with attractive aspects of Japan.