The Japan Cultural Institute in Rome:Various Exhibitions and Popular Film Screenings
The Japan Cultural Institute in Rome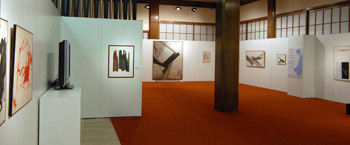 While Roma is famous for archaeological sites such as the Colosseum, many exhibitions of modern art are also held in this city. The Japan Cultural Institute in Rome has been hosting a variety of exhibitions to introduce Japanese art to Italian people.

Main exhibitions held in last year through this year were: "Doll collection of Hatsuko Ohno"; "Contemporary crafts and glasswork of Hokuriku" to introduce traditional crafts and modern glassworks in Toyama Prefecture; "Portraits for Comparison: from Edo to Tokyo" exhibition of ukiyo-e and photographs to review the transition from Edo to Tokyo; "Toko Shinoda Line and Space" exhibition to introduce the artist famous for abstract sumi-e (monochrome painting of Chinese ink). The Institute co-hosted Hokuriku and Tokyo exhibitions with respective local governments, and Toko Shinoda exhibition with Fondazione Italia Giappone (Italia-Japan Foundation). In addition to these exhibitions, the Institute made a new attempt at a lecture on Genji E-maki (the illustrated scroll of the Tale of Genji) by showing the scroll restored by digital replication technology.

From March 28, the Institute has been hosting an exhibition of Tako (Japanese kite). This is collaboration by Mr. Toshiharu Umeya from Japan who has been a creator of Tako over 30 years and a textile-dyeing artist Ms. Anna Onesti from Italy. Their artworks are in perfect harmony and create a unique atmosphere.

The Japan Cultural Institute in Rome had also been hosting the memorial screenings of 21 films for the centennial of the birth of Kashiko Kawakita from January to March. Film screenings at the Institute have been attracting a lot of interests of film lovers, and this Kawakita memorial screening received many media attentions including TV, newspapers, and radio stations.

For this memorial film screening, we presented a lecture by Marco Mullar, the Director of Venice International Film Festival. Mr. Mullar received the Japan Foundation Award for Arts and Culture in 2008 for his contributions to introducing Japanese culture to overseas countries by showing Japanese films.

Films are key means of cultural exchange between Japan and Italy. Animation film screening last year also received favorable reviews. The Japan Cultural Institute in Rome will keep on focusing on film screenings, including animation films that are popular among young Italians.