Activity Reports:Japanese-Language Education Overseas:Indonesian Version of "Nihongo de Care-navi," Is Now Available on the Web English Version Is Also Updated!
Tetsuya Tanaka
Expert
The Japan Foundation Japanese-Language Institute, Kansai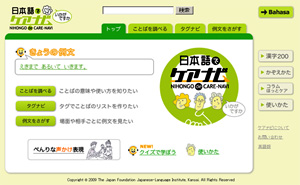 Nihongo de Care-navi Website
 Nihongo de Care-navi mobile mode
 >> Indonesian version >> English version
---
In 2007, the Japan Foundation Japanese-Language Institute, Kansai opened a website called "Nihongo de Care-navi" in order to support Japanese language learners working in the fields of nursing and care-work. "Nihongo de Care-navi" is an Internet tool that provides a Japanese-English / English-Japanese dictionary of basic words and expressions used in nursing and care-work scenes. The site also contains useful expressions for communicating with colleagues and patients or for expressing one's feelings. These expressions can be used in one's daily life and also for work in other fields. This site has received over 1.2 million accesses in two years since its opening.
Now, based on its experience of providing Japanese-language training for Indonesian caregivers from August 2008 to January 2009, the Institute has created an Indonesian-Japanese version of "Nihongo de Care-navi." The Japanese-English version has also been updated with new features, including audio clips. In addition, the Institute redesigned the website to make it simpler and more user-friendly.

1.Indonesian version
In the Japanese-Indonesian version, descriptions and texts on the website are changed to Indonesian by choosing Indonesian mode. Of course, Japanese-Indonesian / Indonesian-Japanese words and expressions can be searched.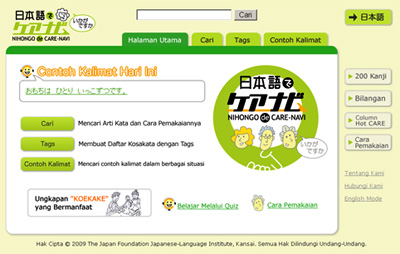 2.Japanese audio clip playback
In both the Japanese-English and Japanese-Indonesian versions, Japanese audio clips of all 8,000 words and 2,000 phrases provided in "Nihongo de Care-navi" are available. An audio clip can be played over and over by clicking on the speaker icon.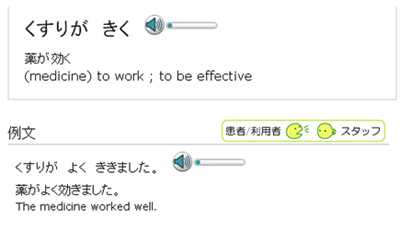 3.Search for example sentences
Before the website was redesigned, only words and phrases could be searched. Now, over 2,000 example sentences can also be searched. By choosing "Setting" and "To whom" options, a list of suitable sentences is shown.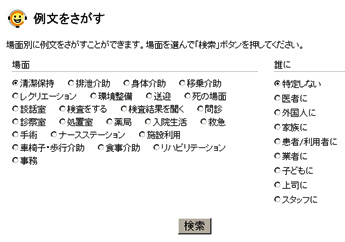 4.Easier listing of words with "Tag-Navigation"
The "Tag-Navigation" is a method of searching words by scenes or attributes. With the updated "Nihongo de Care-navi," it is easier than ever to make a list of words used in particular scenes or words with particular attributes. By choosing scenes and attributes among tags that appear on the screen, the user can make a list of words and expressions that he or she wants to learn.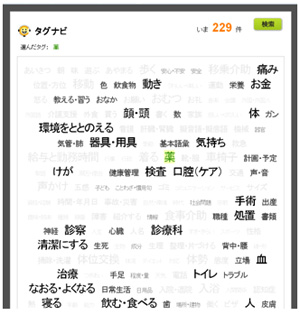 5.Fun to learn with quizzes
Once you create a list of words using the Tag-Navigation, quizzes including words on the list become available. A mascot of the website, "Care-Kun" shows you where to click, and quizzes about Japanese words shown on the screen can be played. The user has to find out what the Japanese word means in English or Indonesian, and he or she can check how to pronounce the Japanese word with audio clips.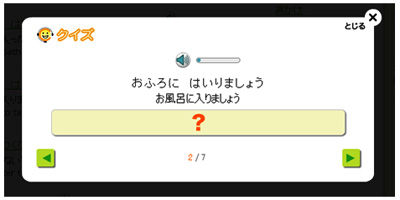 6.Kanji search by Kun-yomi
Kanji 200 is a selection of 200 kanji often seen in the nursing or caretaking workplace. Previously, kanji could be searched only by their on-yomi (Chinese reading), but now they can be searched by their kun-yomi (Japanese reading) as well.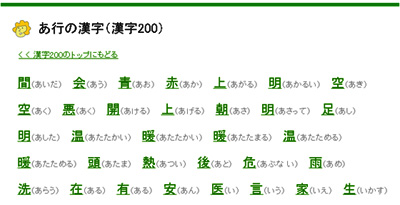 7.Short columns about Indonesian culture
"The Column Hot CARE" section has a number of short columns to introduce Japanese and Philippine cultures. Now, information on Indonesia has also been added.
There are nurses and caretakers from Indonesia and Philippine who have already started (or will start) working in Japan. They are supported by various people in various ways. We hope that our improved "Nihongo de Care-navi" will be of service in this new field of international exchange.