The Japan Foundation, Beijing:Project to Support and Exchange with Children in Quake-Devastated Sichuan Province
The Japan Foundation, Beijing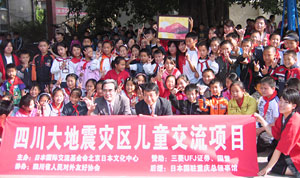 The Japan Foundation, Beijing (JFB) hosted "Project to Support and Exchange with Children in Quake-Devastated Sichuan Province" on May 22, 2009. This project was planned by the JFB and Japanese companies for the first anniversary of the earthquake. Ten Japanese students who have been learning Chinese sign language visited a school for children with hearing disabilities and an elementary school in quake-devastated Sichuan province to introduce Japanese culture and exchange with school children. In addition, Japanese students donated stationary to these schools. The stationary was provided by Japanese companies that supported this project to encourage and show our goodwill to suffering children in the province.

The target schools were located in Deyang City, a two-hour drive from Chengdu City.

In the morning, the member of the project visited Zhongjiang County Special Education School where they were welcomed by about 30 students with hearing disabilities and the staff of the school and the local government. Our visit received coverage by a local TV station. Following a ceremony to donate stationary, Japanese students gave a performance of sign language. During the performance, students of the school showed sign language along with Japanese students who were singing songs. This touching moment made Japanese students realize that heart-to-heart communication can overcome the language barrier.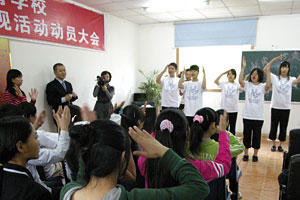 In the afternoon, the project visited Huangxu Central Elementary School. Because the schoolhouse was damaged by the earthquake, students were taking lessons in temporary classrooms. Such a classroom was too small for Japanese students to perform So-ran Bushi dance, so they decided on the spot to perform the dance outside. When they danced So-ran Bushi in total synch, about 500 school children surrounded them gave applause.

Japanese students and people from supporter companies who accompanied the tour commented that they were encouraged and energized, conversely, by children at these schools who were full of vigor and happily smiling under adverse circumstances. Teachers of both schools requested us to visit their students again because it was a rare opportunity for the students to encounter with foreign culture. We hope this project was memorable for children who had to withstand a period of hardship for some time.