Activity Reports:Japanese-Language Education Overseas:Growing Website "Minna no Kyozai" Celebrates Its Eighth Anniversary
Chieko Kono
Research and Development Section
Japanese-Language Learner's Support Department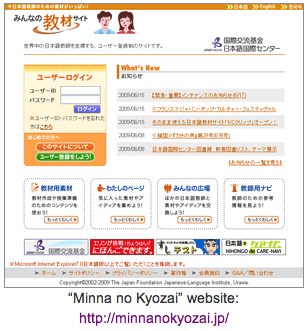 "Minna no Kyozai" is a website operated by The Japan Foundation Japanese-Language Institute, Urawa in order to help Japanese-language teachers around the world create suitable teaching materials for their students. Main contents are: "Resources" to create Japanese-language teaching materials; "Forum" where Japanese-language teachers around the world can exchange ideas; and "Teacher's Navigator" to review reference information for teachers. Opened in May 2002, "Minna no Kyozai" is now celebrating its eighth anniversary and serving more Japanese-language teachers than ever. Let's take a look back in the seven-year history of this website with data.

1. Enhancing Resources
When "Minna no Kyozai" website was opened in May 2002, a total of 582 resources were provided based on "Kyôkasho o Tsukurô," a collection of teaching resources for elementary Japanese compiled by the Japan Foundation. Resources included 161 items of classroom activities; 132 items of grammar notes and example sentences; 289 illustrations. The variety and number of resources has been increased each year with computerized existing materials produced by the Japan Foundation and through cooperation with other organizations. Today, the website provides five types of resources with 9,114 items. It is about 15.5 times more items than there were at the opening.
In recent years, the original resources of the website have been developed and produced in response to users' requests, such as "Elementary Vocabulary Pictures" and "Kisetsu no Katsudo" to name a few.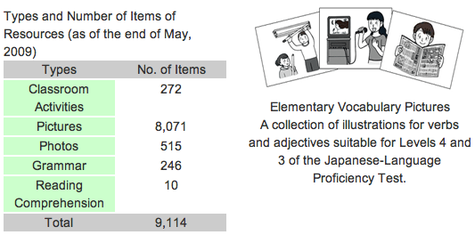 2. Increasing Number of Users
"Minna no Kyozai" is a website for registered users free of charge. In its first year, 2002, approximately 5,200 users registered. The number of users has been growing year after year, and it reached approximately 50,000 from 160 countries as of March 31, 2009. It is about 9.5 times more users than that in the first year.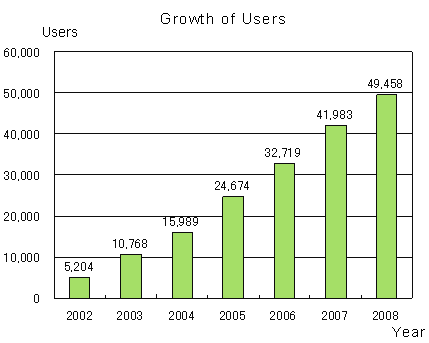 3. Increasing Number of Page Views
As the contents were enhanced and the number of users increased, the website's number of page views has also been growing. The total of page views in 2002 was about 330,000; in 2008, it increased by about 13 times to approximately 4,290,000.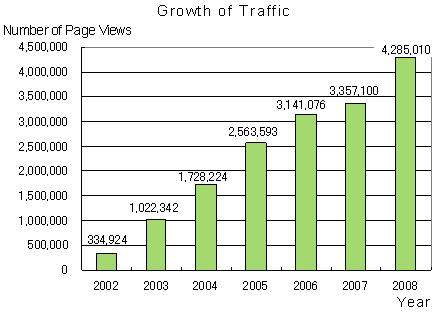 4. Enhancing User Community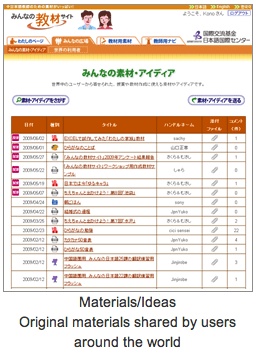 "Minna no Kyozai" website has Forum section where a user can share his or her original teaching materials and ideas used in class, and exchange comments and questions about other users' materials and ideas. So far, approximately 200 materials and ideas have been shared and about 1,000 comments have been provided. "Minna no Kyozai" website is a treasury of collective wisdom and efforts shared by the users.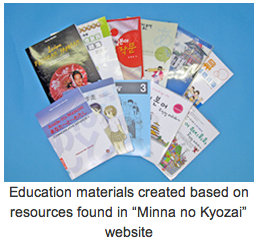 Japanese-language education materials are created around the world by using the resources of "Minna no Kyozai" website. So far, the Institute has received about 40 such Japanese-language textbooks.










---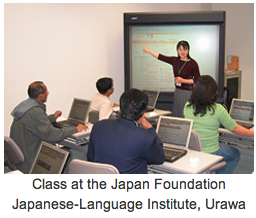 The website was redesigned in October 2008, and the page views and comments from the users have increased since then. The greatest number of page views ever was approximately 550,000 that was recorded in May 2009. That means approximately 18,000 hits per day, so it is evidence that a large number of people around the world are accessing this website.
"Minna no Kyozai" website is also used in training programs for foreign teachers of Japanese-language at the Institute, and winning new users.

We will keep enhancing the contents of "Minna no Kyozai" website to serve Japanese-language teachers around the world. New contents are waiting to be added to the website. Don't miss them!