The Japan Foundation, Moscow:Activity Report of the Japan Foundation, Moscow
The Japan Foundation, Moscow


The Japan Foundation, Moscow (JFM) * was established in July 2008, and its library was opened to the public on January 27, 2009. Since then, the JFM has been vigorously conducting activities and gradually gaining popularity among lovers of Japanese culture in Moscow. Here are some of our recent activities:

From February 27 to March 20, the JFM hosted an exhibition entitled "Japan Book Design Exhibition" to show the awarded books of the 42nd Japan Book Design Concours. In relation to this exhibition, the JFM invited Prof. Hiroshi Kashiwagi, a historian of design at Musashino Art University, to give a lecture on "The Charm of Japanese Book Design." The seminar room was filled to capacity with the audience of over 120 people, and some of them had to stand. Prof. Kashiwagi gave another lecture entitled "Characteristics of Japanese Culture: The Beauty of the Divided Spaces and Mended Things" as part of "What is Japan" lecture series.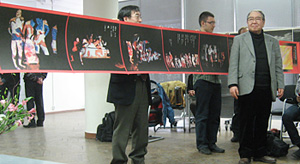 From March 17 through 30, an exhibition "Deadly Ashes" by Mr. Eikoh Hosoe, a photographer, was held at the exhibition hall of Moscow State University of Arts and Industry. In connection with the exhibition, the JFM organized a lecture by Mr. Hosoe and a talk session between Mr. Hosoe and Mr. Shunichi Kida, an artist who prints photographs on washi (Japanese paper), on its premse.
From February through March, four lectures on Japanese literature were given by Ms. Sokolova-Delyusina who is a winner of the Japan Foundation Special Prize in 1993 and famous as a translator of "The Tale of Genji." In March, a series of lectures "What is Japan" was held every Wednesday.
The JFM has been organizing the following regular courses: Japanese Language, Ikebana (Sogetsu and Ikenobo), and Origami. In addition, the courses of Shogi (Japanese chess) will start in May and calligraphy in June.
A wide variety of events are scheduled in the coming months. One of the most aspired events is the first-ever Bunraku performance in Russia scheduled from June 30 through July 8. It will definitely draw enthusiastic response from people in this country.

* The Japan Foundation, Moscow is carrying on its activities as The Japanese Culture Department "Japan Foundation" of the All-Russia State Library for Foreign Literature.