The Japan Foundation, Manila:"3rd International Silent Film Festival"
The Japan Foundation, Manila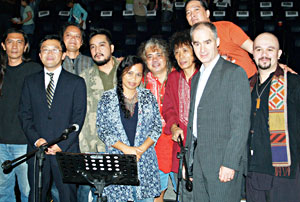 The Japan Foundation, Manila in cooperation with Goethe Institute (Germany), Instituto Cervantes (Spain), French Embassy and Italian Embassy, from July 30 to August 8 have organized the 3rd International Silent Film Festival.

Silent Film is accompanied by a live performance of an orchestra, band and other music resources, whereas in Japan a katsudo benshi (motion picture narrators) narrates the lines on the film. The screening of the International Silent Film engaged on the characters seen on the film which served as a cue, and because of the element of a foreign film, it is inserted with English subtitle, serving as a guide to Filipino musicians as they execute their live performance.

Different cultural institutions and embassies from different countries having participated on this film festival counting the 3rd time, have employed chorale group, rock bands and others, being elaborate on their choices of bands to make their film exciting. This year, audience witnessed accompaniment via rap, house music and a DJ. Young crowd swayed their bodies to the rhythm of the rap, to watch black-and-white silent film, in spite of being an alien at a glance yet a combination of skillfully harmonized film and music, the whole place unexplainably gave birth to a mysterious ambiance.

The Japan Foundation, Manila has shown "Jirokichi the Rat" (directed and written by Daisuke Ito, lead actor Denjirou Okochi) adapted from the novel "The Rat". Kalayo band created such rich atmosphere with their use of Philippine traditional musical instruments to go with the film, that afterwards the film draw loud applause from the jam-packed audience. Also, Mr. Larry Greenberg from Digital Meme, a company responsible for the collection, restoration, digitalization to DVD form of Japanese Silent Films, has been invited for a lecture about the history of Japanese silent film.

With the collaboration from various cultural institutions and embassies for the planning of this event, henceforth an endeavor for continuation and implementation will carry on.