The Japan Foundation, Toronto:B.C. Japanese Teachers' Summer Seminar 2009
The Japan Foundation, Toronto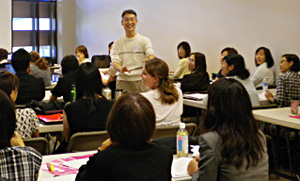 The Province of British Columbia (hereinafter B.C.), situated on Canada's vast Pacific coast, is the most active region in Canada in terms of Japanese language education. More than half of Canada's Japanese learners and Japanese language institutions can be found in B.C., and in a Japanese language education survey carried out by the Japan Foundation, it was found that the number of Japanese learners in that province rose from 11,200 in 2003 to 13,321 in 2006, with a concurrent climb in the number of educational institutions offering instruction in the language from 83 to 106. A trend toward an increase in Japanese language education, therefore, can be seen in B.C.

From August 25 through 27, in the Greater Vancouver Area, around 40 teachers from various locations around Vancouver, across B.C., and as far away as Alberta attended the 'B.C. Japanese Teachers' Summer Seminar 2009', geared chiefly toward teachers of the Japanese language in secondary schools, as well as at those teaching the Japanese language to young Japanese Canadians. The seminar was co-hosted by the Japan Foundation and Nihongo BC (headed by Sachiko Renovich), the Province's association of teachers of the Japanese language.

At this seminar, Mr. Makoto Netsu, a lecturer at the Japan Foundation Japanese-Language Institute, Urawa, offered wide-ranging workshops on Japanese language instructional methodology based upon his experiences teaching at the Institute. The participants were particularly interested to hear Mr. Netsu's remarks on instructional methodology focused on reading, as well as his tips for the efficient use of the DVD resource "Erin's Challenge! I Can Speak Japanese".

In addition, Ms. Ayumi Nagatomi, a Japanese-Language Education Advisor dispatched by the Japan Foundation to Alberta Education, offered lectures and workshops on themes that would prove helpful to the participant teachers' actual work in the classroom, such as the use of Internet resources in Japanese language instructional methodology, and so forth.

We invite you to learn more about this seminar online, at the Nihongo BC website:
http://sites.google.com/site/nihongobc/

This event marked the first time that the Japan Foundation, Toronto has conducted a 3-day intensive Japanese teachers' summer seminar in the Vancouver area, and it was very successful. The response from the participant teachers was so enthusiastic that the Japan Foundation, Toronto hopes to hold similar seminars in cooperation with teachers in regions across Canada in the years to come.