The Japan Cultural Institute in Rome:Activity report of the Japan Cultural Institute in Rome
The Japan Cultural Institute in Rome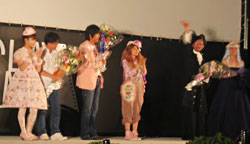 Last year, in 2008, the Japan Cultural Institute in Rome hosted many events related to the millennium of the Tale of Genji. This year, under the theme of "Pop Culture", the Institute is organizing a variety of events to introduce both contemporary and traditional cultures of Japan.

On July 7, the Institute hosted a Japanese culture event entitled "Japanitaly" in the Tiber Island in Rome, in collaboration with the Embassy of Japan in Italy and other organizers. This event featured presentations of Japanese pop culture, films, foods and sake, and Mr. Taro Aso, Japanese prime minister at that time visiting Italy for G8 summit, attended the event as the guest. In a talk show on fashion, two KAWAII Ambassadors appointed by the Ministry of Foreign Affairs to promote Japanese pop culture appeared in their eye-catching outfits. Also, a cosplay (costume play) show soared spirits of numerous Italian youngsters who have great interests in Japanese pop culture.

At the Institute, a Futurist chamber music concert was held as a part of the Mediterranean International Festival of Literature and Arts 2009. This year is the 100th anniversary of the Futurist Manifest and many relevant projects are organized in Italy. This concert was a landmark event that introduced Japanese Futurist music to Italian audience. At "Gauche the Cellist" concert, Hikaru Hayashi's orchestral work based on the story by Kenji Miyazawa was played.

On the other hand, there were events of Japanese traditional cultures, including a lecture on Japanese sake and a sumie (ink painting) exhibition.

At the lecture on Japanese sake, Italian visitors loved tasting of sake from local brewers around Japan. Since Italy is famous for wine and grappa, Italians were very curious about Japanese sake, asking people from the breweries question after question while tasting cups of sake.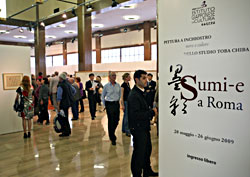 The sumie exhibition showed works by a dozen of Italian students who had been learning at a sumie studio in Rome for years. It proved that Japanese culture has been deeply rooted in this country. In addition, works by fellow Italians seemed to prompt many local visitors to be interested in Japanese cultures.

The Institute's spring-summer season of 2009 was concluded successfully with Leonard Eto "Blendrums" concert. Taiko drums are quite popular in Italy. The superb rhythm of taiko drums in collaboration with a guitar and tap dancing received a thunderous ovation from the audience.

In the fall season of 2009, the Institute will continue to organize events to let Italian people know the diversity of Japanese cultures, in particular pop culture.