Activity Reports:Japanese Studies and Intellectual Exchange:Report on the Symposium "Global Japanese Studies Scholars Forum - Changing Japanese Studies: Reports from the World"
Planning and Coordination Section
Japanese Studies and Intellectual Exchange Department
From October 12 to 14, 2009, the Japan Foundation hosted "Global Japanese Studies Scholars Forum 2009" in Hakone by inviting 16 scholars from 12 countries. These scholars playing important roles in major countries and regions were invited to discuss a wide variety of issues that Japanese studies scholars and institutions around the world are facing due to the significant changes in contents and roles of Japanese studies abroad. To summarize closed discussions held in Hakone, a public symposium entitled "Global Japanese Studies Scholars Forum - Changing Japanese Studies: Reports from the World" was held at the Japan Foundation headquarters on October 15. The moderator was Professor Toru Haga, President Emeritus of the Kyoto University of Art and Design, and the commentator was Mr. Akio Nomura, the President of Asahi Institute of Journalism.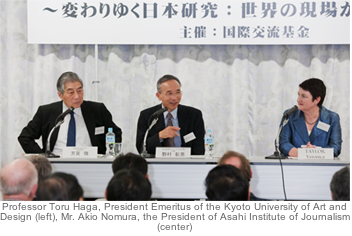 [References]
・Program and the List of Participants of "Global Japanese Studies Scholars Forum 2009" (PDF/19KB)
・The Minutes of the Public Symposium (PDF/204KB)
・Harald Fuess, President of European Association for Japanese Studies, "Japanese Studies in Europe: An Overview 2009" (PDF/322KB)
・Patricia G. Steinhoff, Univeresity of Hawaii, US, "The Present Situation of Japanese Studies in the US" (PDF/268KB)
・Xu Yiping, Director of the Beijing Center for Japanese Studies, China "Japanese Language and Japanese Studies: Japanese-language Education and Japanese Studies in China" (PDF/400KB)

Session 1 "Current Situation of Japanese Studies in Each Country and Region"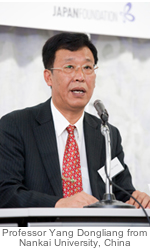 In this session, Prof. Yang Dongliang from Nankai University in China reported new movements of Japanese studies in each country and region: In China, new generation of Japanese studies scholars were emerging and the scope of studies was diversified. Due to propagation of information technology, scholars of other fields of studies and general people were participating in Japanese studies. While some changes could be seen in Japanese studies scholars, they were rarely exchanging opinions or networking with each other. Therefore, the Japan Foundation is required to play as an intermediate among these scholars around the world.
From the audience, Professor Kent Anderson from the Australian National University suggested, as a first step, to build a network between two countries or regions, such as between Australia and Southeast Asia or Europe and the U.S., because it would be difficult to establish a comprehensive network at once. In particular, scholars in Europe and the U.S. are now interacting directly with each other, not via Japan as they had used to do.

Session 2 "Regional Studies and Japanese Studies"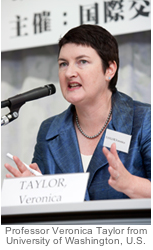 In this session, Professor Franz Waldenberger from the Ludwig-Maximilians University of Munich, Germany, reported on Japanese studies in Asian studies. Universities in each country recognized the need to organize Japanese, Chinese, and Korean studies under the name of Asian Studies. Such reorganization would hardly result in severe problems of contents or quantities of these studies. The critical issue for Japan in the future will be its role in the unity of Asian nations, because Japan is an important role model for other Asian countries and Japanese studies are dominant in comparative studies on Asian countries. On the other hand, Western nations consider "Japan still matters as Japan," because Japan shares many issues with the advanced nations, such as energy, environment, falling birthrate and aging society, and widening economic and social gap. From the audience, Professor Xu Yiping, the Director of the Beijing Center for Japanese Studies, China, reported the cases of Korean students studying Chinese and Japanese in China, Chinese students conducting Japanese studies in Korea, and students in China and Korea organizing collaborative seminars on Japan.

Session 4 "Japanese Language and Japanese Studies"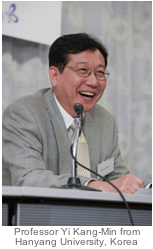 In this session, Professor Yi Kang-Min reported how to connect the increasing number of Japanese-language learners to Japanese studies and how to evaluate Japanese studies conducted in other languages than Japanese. In Europe and US, Japanese studies were currently conducted and taught in English based on the common standard. In China, the number of people learning Japanese language at language schools and in higher education was significantly increasing, so the Japanese-language education and Japanese studies correlated with each other. In France, while a surge of interest in China was affecting Japanese-language education, more and more college students were learning Japanese due to the widespread Japanese pop culture including manga, animation, and video games. Professor Yi pointed out that it would be possible that only Japanese people are ignorant of the widening network being established via Japanese language. There are intellectual interactions via Japanese as the common language; for instance, students from Southeast Asia are majoring in Japanese studies at universities in south China, or Korean students are traveling to China to exchange opinions on Japanese studies with local students.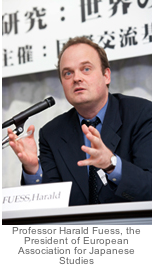 At the summary session led by the Professor Harald Fuess, the President of European Association for Japanese Studies, it was pointed out that collaboration among scholars overseas was important as a supportive measure of Japanese studies, and suggested that the world summit of Japanese studies scholars should be held in Japan. In addition, more international collaborative studies should be conducted than those that have already been in process.
Comments from the audience:

This public symposium gathered the audience of 113 people. Thanks to the witty moderator Professor Toru Haga, the discussion was conducted in a friendly manner. Over 90 % of the respondents of the questionnaire (29 people) answered "Very satisfied" and "Fairly satisfied." Those answered as "Very satisfied" commented that the contents were very interesting and thought-provoking; a variety of opinions from many scholars were presented; or the discussion broadened their fields of view. On the other hand, there were people who responded that each session was too short or there should have been more interactions between the presenters and general audience.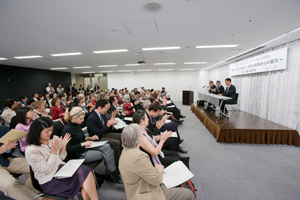 It was the first attempt for the Japan Foundation to organize a forum to gather Japanese studies scholars from the world together. In particular, 16 scholars from 12 countries who participated in the closed forum in Hakone gave us favorable feedback that it was a precious opportunity for them to meet other scholars in the academic fields or geographical regions that they hardly met otherwise. Such compliments were great honor for us. The Japan Foundation will further provide such occasion in the future.