The Japan Foundation, Kuala Lumpur:"We're Gonna Go Dancing!"
The Japan Foundation, Kuala Lumpur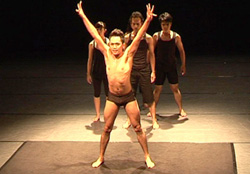 On August 19 to 20, 2009, the Japan Foundation, Kuala Lumpur (JFKL) hosted a contemporary dance performance "We're Gonna Go Dancing!" with co-organizers Akademi Seni Budaya dan Warisan Kebangsaan (ASWARA), Japan Contemporary Dance Network (JCDN), and Embassy of Japan in Malaysia. ASWARA is the only national art education institute in Malaysia.

In this event, three Japanese artists (Maki Morishita, Masanori Hoshika, and P'Lush)were invited to perform three programs that were rich in variety. In addition, Ikuyo Kuroda (the organizer of BATIK, dancer and choreographer) and Jiro Matsumoto, musician, conducted a 7-day (24 hours in total) intensive workshop for 19 students from ASWARA. They created a new piece during the workshop and performed it in the event.

Major arrangements were required to let students from ASWARA to participate in the workshop: the Dance Department classes were canceled for ten days, and the timetable of workshop was scheduled not to hinder their study of required classes. The institute supported such arrangements. Thanks to these efforts as well as Mr. Kuroda's skillful instructions, the students devoted themselves to the practice in order to make the most of this exciting opportunity to be on the stage with professional dancers. They seemed to regard this was "the project of their own".

On the day of the performance, Japanese dancers and, in particular, dancers from ASWARA received a thunderous applause when they finished dancing. Feedbacks from the audience stated that it was a very interesting experience, a fresh sensation, something that was totally different from local shows, and they wanted that such event was always available in Malaysia. Faculty of ASWARA also praised the amazing achievements of their students who created such a difficult piece in such a short period of time.

Without mentioning the success of introducing Japanese artists and works to Malaysian audience, this was a fruitful project in terms of cultural exchange between Japan and Malaysia.