The Japan Cultural Institute in Paris:Contemporary Dance Performance "J-Dance"
The Japan Cultural Institute in Paris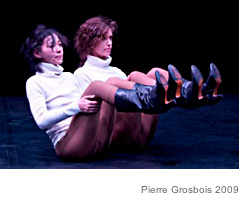 The Japan Cultural Institute in Paris (Maison de la Culture du Japon a Paris: MCJP) has been hosting annual two-week Japanese contemporary dance performance entitled "J-dance". This year was a huge success because both of dance pieces were included in the program of "The Festival D'Automne a Paris" (Paris Autumn Festival), a festival of contemporary arts supported by the Paris City Council.
The first week of J-dance 2009 spotlighted two choreographers : Emmanuelle Huynh from France who loves Japan and had stayed at the Villa Kujoyama ; and Kosei Sakamoto from Japan, the leader of Kyoto-based Monochrome Circus. In « Monster Project », two young Japanese and French dancers performed monsters created by two choreograhers, bewitchingly and comically. This innovative creation deliberately emphasized the difference in physical figures and movements between Japanese and French dancers. The audience enthusiastically reacted with cries of « Bravo ! ».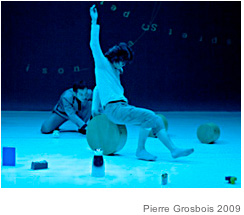 The second week presented « True » by a group of ten artists, organized by the Japan Foundation. Mixing dance and cutting-edge technologies, including ligthing, sound, vibration mechanism, etc, this performance was attracting a great deal of attention in the festival, so the tickets of « True » had been almost sold out several days before the performance went on the stage. French audience was enthralled by this piece of dance that let them experience a completely different dimension of reality. At the post-performance talk on the second day, the audience was eagerly listening to the explanation of equipment that was attached to many places on the stage and on the performers' bodies.

In France, the number of performances by Japanese choreographers and dancers is increasing. While France is the home of classical dance, choreographers of contemporary dance are paying attention to Asian countries that are worlds apart from their own culture, looking for the new source of inspiration. Japanese contemporary dance will definitely continue to be the center of attention.