Activity Reports:About Us :The Presentation Ceremony of the Japan Foundation Prizes for Global Citizenship (2009)
Sachiko Kanno
Japan Foundation Information Center (JFIC)

Photo: (From Left) The Japan Foundation President Kauzo Ogoura,
Mr. Takashi YANASE, Ms. Mitsue INOUE, Mr. Shinya OMINAMI

On Thursday, February 25, 2010, the Presentation Ceremony of the Japan Foundation Prizes for Global Citizenship 2009 was held at the JFIC Hall [SAKURA] in the Japan Foundation Headquarters in Shinjuku, Tokyo. On the occasion of its 25th anniversary, the ceremony was graced by the attendance of Her Imperial Highness Princess Takamado and received many guests who were involved in the activities of the recipients.
This prize was established in 1985 under the name of "The Japan Foundation Prizes for the Promotion of Community-Based Cultural Exchange" to award individuals and organizations that are leading models of international cultural exchange activities on the initiative of citizens in regions and communities . 73 individuals and organizations have been awarded so far, including one Special Prize.
The recipients of the prize for 2009 were: NPO Jinenjo Club from Tsukuba, Ibaraki; NPO Hamamatsu NPO Network Center from Hamamatsu, Shizuoka; and NPO Green Valley Inc from Kamiyama, Tokushima. Each organization has a high aspiration and global perspective to enrich and vitalize their community through a connection to the world. They are ideal role models for future community development activities.
At the presentation ceremony, the recipients made speeches full of encouraging ambitions for the future. You can read their speeches by clicking the names below.

・Activities of the recipients

・Acceptance speeches
---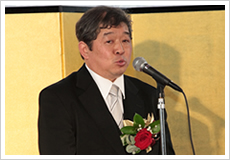 NPO Jinenjo Club:
Mr. Takashi YANASE, Director
Thank you very much for giving us the Japan Foundation Prizes for Global Citizenship today. By shedding light on us, a small community at the foot of Mt. Tsukuba, the Japan Foundation gave us a great encouragement for our activities. We started our activities in 1990, so this April will be our 20th anniversary.
Our activities can be described as archaeology of the modern society. Of course, we are not digging the soil of Mt. Tsukuba for ancient monuments; what we are trying to dig up is the sensitivity of people. Core members of our activities have so-called intellectual disabilities. What we found in them is, however, the innate energy of human beings to produce a variety of things, the same energy that can be found in the cave paintings of Lascaux and cord patterns of Jomon Pottery. We are not the only one to see such energy; people around the world come to discover their creativity as well as profoundness and strength of their art. We keep exploring this network of people, because this is not the issue for only people with intellectual disabilities but for every one of us who is living in this society today. Our sensitivity is waning under the surface of modern civilization. That is why we encourage people to join our activity to awaken the sensitivity inside us. Our challenges will go on, and we appreciate your warm support. Thank you again.
---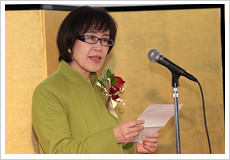 NPO Hamamatsu NPO Network Center:
Ms. Mitsue INOUE, President
As the President of Hamamatsu NPO Network Center, I would like to thank you for giving us the Japan Foundation Prizes for Global Citizenship 2009 as an organization contributing to the promotion of mutual support in multicultural society.
I'm so happy to tell you that this prize gives us the opportunity to let society know that a non-profit organization is a place for everyone who wants to lead a meaningful and happy life through being exposed to a wealth of values. People can learn so many things by engaging in activities of such organization: they can contribute to the solutions of issues, and in return they can be stimulated and inspired by many people. Hamamatsu NPO Network Center, or N-pocket, is a good place to learn diversity through its activities. N-Pocket is also an alternative school for youth in the community where they can meet many young people from multicultural backgrounds. N-pocket has been providing medical aid projects, education support projects, and artistic approaches beyond language barrier. These activities help young people from multicultural backgrounds to be recognized in the society. In addition, we have been supporting growing children so that they can live their own lives with confidence and trust in people without losing their dreams. It is our honor to receive the Prizes for Global Citizenship, because the title of the prize assures us that we are on the right track. It encourages us to move forward with a belief in what we have believed. I can say with confidence that this prize will give a big boost to our fellow non-profit organizations.
On receiving this prize, we swear to make every effort to build the society with the principle of social inclusion in which people understand the essence of multiculturalism through their own activities.
Thank you.
---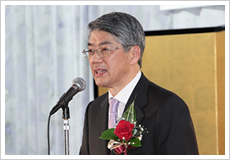 NPO Green Valley Inc:
Mr. Shinya OMINAMI, Chairman
The video of our activity may make you think that we are doing something extraordinary. Well, we don't think it as such a big deal.
But, we at the Green Valley do have one big dream; that is, we always keep in mind that the goal of our activities is to make our hometown Kamiyama not just a town in Tokushima or in Japan but to be "Kamiyama of the World." This Kamiyama of the world is a place created by people from around the world by fusing their own dreams and wisdom together. We want to make a creative rural town. Thank you so much for giving such a wonderful prize to Green Valley. We will change our resolve from making "Kamiyama of the World" to making "
Kamiyama of the Globe".
The starting point of Green Valley dates back to 1927 when 12,709 dolls with blue eyes were sent from the United States to Japan. These dolls were presents for friendship between two countries, but when the World War II broke out, they were regarded as dolls from the enemy and destroyed. Today, only about 300 dolls survives across Japan. In Jinryo Elementary School in Kamiyama-cho, Tokushima Prefecture, there is a doll named "Alice". 20 years ago, in 1990, I visited this school I graduated from and found out that this doll Alice had a passport. It said that her hometown was Wilkinsburg, Pennsylvania. Wondering who sent the doll to Japanese children and what he or she thought, I decided to find out the sender and foster parent of the doll. I wrote a letter to the Mayer of Wilkinsburg to ask for help, and half a year later, I received a letter that informed me that the sender of the doll was Ms. Alice Johnson, who gave the doll her own name.
In the following year 1991, a group of 31 residents of Kamiyama visited Wilkinsburg to bring Alice doll to her home for the first time in 64 years. Unfortunately, Ms. Alice Johnson who sent the doll to Japan had past away in the mid-1960s. My question of how she felt about sending a doll to Japan remained unsolved. If Alice had been alive, she might have answered, "It's wonderful that a doll can make international exchange possible. If I can do it, then you can do it too. It's so simple.
" One doll travelled 11,000 km to a town in Japan and, after some 80 years, the doll still drives people in this town to make change. I think it's amazing. This story shows us infinite possibility of people's dream, action, and international exchange.
I swear that Green Valley will keep on believing in the possibility of international cultural exchange through which we will contribute to the society and the world. Thank you.
---
Photo by Takeshi Yuasa (all in this report)