The Japan Cultural Institute in Rome:Japanese-language Education Programs at The Japan Cultural Institute in Rome
The Japan Cultural Institute in Rome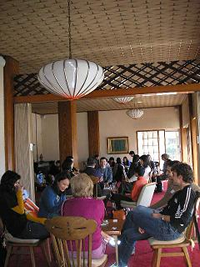 The Japan Cultural Institute in Rome has been offering Japanese-language courses since 1964. From October to June every year, 16 classes are offered in daytime and evening, on weekdays and Saturdays. Classes include a standard course to learn Japanese intensively for four years, and introductory and advanced courses. The total number of students annually comes to more than 500. In the past, the majority was university students majored in Japanese who took our classes as supplementary lessons. Today, a variety of people including high-school students, adults, and pensioners come to the Institute to learn Japanese; some are interested in Japanese traditional culture, while others are stimulated by Japanese pop culture. Among them is an eye-catching student who always shows up in costume of Japanese anime and is famous for winning an award last October at ROMICS,

the largest pop culture event in Rome. Listening to teachers' explanations is only a part of class activities; students engage in writing a script in Japanese to perform a play, or interviewing with Japanese staff at the Institute to make a newspaper. The students who made the newspaper still had some difficulty in understanding Japanese, so their article turned out to state that one of our staff was making "waraji" (sandals made from straw rope) on holidays as a hobby. It really entertained us.

In addition, meetings called "Shaberiamo" are taking place to offer opportunities for Japanese learners in Italy who hardly have chances to practice their language skills. At the meetings, they can practice natural Japanese conversation with volunteer Japanese residents in Rome. "Shaberiamo" used to take place once a month, but in order to meet the increasing demand of participants, it is now
held twice or more per month. Each meeting has a particular theme, such as "Play" or "Tourist attractions in Rome." The theme for March was "Japanese songs", and the meeting resulted in an exciting karaoke party. Some of participants and volunteers go to local Japanese restaurants after meetings. "Shaberiamo" seems to have already been established as a forum for cultural exchange in Japanese.