The Japan Foundation, New York:Rieko Matsuura: An Evening with a Contemporary Japanese Novelist
The Japan Foundation, New York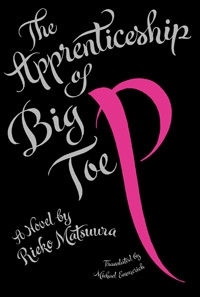 The Japan Foundation New York office has been hosting an annual event "An Evening with a Contemporary Japanese Novelist" to invite Japanese novelists whose books are published in English to introduce to readers in the U.S. Following to the previous program with Ms. Mitsuyo Kakuta (February 2008), we invited Ms. Rieko Matsuura, celebrated female Japanese novelist, for a tour in New York and Seattle from February 22 to March 2. The tour was launched in concert with the English publication of Matsuura's novel, "The Apprenticeship of Big Toe P," a gripping read and award-winning best seller in Japan.

During her stay, she met with hundreds of 200 readers at several events, including lectures at The Donald Keene Center of Japanese Culture at Columbia University and University of Washington in Seattle, a meeting with students at Bard College in New York; as well as book events at bookstores such as McNally Jackson in New York. Published in Japan in 1993, "The Apprenticeship of Big Toe P" tells the story of a young woman who wakes up one afternoon to discover that her big toe has turned into a penis. Ms. Matsuura explained that the motivation to write the book was to question the prescribed roles of men and women in Japan, forcing the reader to reconsider what many passively accept: one's body and one's sexuality. At each event, the author and the readers discussed on topics such as genders and love. The participants gave us positive feedbacks, including "I'm very pleased to have an opportunity to meet a Japanese novelist face to face"; and "Ms. Matsuura's philosophical perspective was very interesting."

Except for Haruki Murakami and Banana Yoshimoto who are quite popular in North America, Japanese contemporary novels are rarely introduced in English. We are hoping that through these encounters, more and more people will be interested in Japanese contemporary literature and beyond.

In addition to "An Evening with a Contemporary Japanese Novelist," the Japan Foundation New York office hosts "Japanese Contemporary Literature Project", an outreach program for high schools, universities, and book clubs in the U.S. to provide books of Japanese contemporary literature.