The Japan Foundation Center for Cultural Exchange in Vietnam:Furoshiki: Discover Traditional but New Aspect of Japanese Culture
The Japan Foundation Center for Cultural Exchange in Vietnam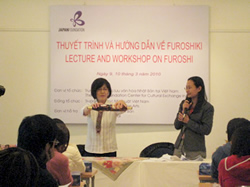 Do you know a piece of cloth that can be a shoulder bag, tote bag, belt bag, or even a hat cap by folding? It is the Japanese traditional wrapping cloth called Furoshiki.

On March 9 through 12, 2010, the Japan Foundation Center for Cultural Exchange in Vietnam invited Ms. Hiroko Handa, member of Furoshiki Study Group, to hold lectures and workshops in Hanoi and Ho Chi Minh City. At each workshop, participants were fascinated by this kaleidoscopic cloth and excited to experience the art of wrapping with Furoshiki.

On each participant's table, there were a box of tissues, two bottles of beer, and two pieces of Furoshiki cloth, one large and one small of various colors and patterns that were brought from Japan. Ms. Handa started her lecture explaining the origin of Furoshiki and the traditional patterns of Furoshiki design. After she told the participants that Furoshiki is the cloth to wrap thegift with your whole heart to preset to someone you care, she started practical demonstration on Furoshiki.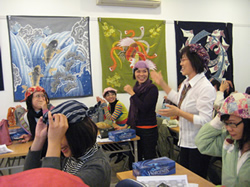 Ms. Handa quickly wrapped two bottles of Champaign with one piece of Furoshiki to make a two-bottle binding that showed a beautiful pattern. The participants couldn't help applauding for her skill. They tried to do the same immediately, but the instructor gently interrupt them by saying, "Before give it a try, let's make an instant bag first." Each participant was serious but somehow relaxed. Vietnamese are highly acclaimed that they are good with their hands, so it was a piece of cake for them. They mastered tasks one afteranother; making a cover for a box of tissue and a cap and wrapping two bottles of beer. They took pictures with each other, smiling with V sign. Finally, they were divided into pairs to make shoulder bags backpacks.

Furoshiki is practical, eco-friendly, and tolerant of redoing as many times as possible, unlike origami. In addition, Furoshiki allowslecturers to hold workshops with only a lightweight baggage and a couple of hours of preparation. Four days of workshops on Furoshiki enchanted over 400 participants and made us eager to hold such event again in Vietnam.

Please visit the official website of Furoshiki Study Group to learn more about the beauty of its tradition and new variations of wrapping.