Activity Reports:Japanese Studies and Intellectual Exchange:Report on Public Lecture by Prof. John Holden Values Without Borders: "Cultural Diplomacy" Starts At Home
Tomoaki Shimane
Europe, Middle East and Africa Section
Japanese Studies and Intellectual Exchange Dept.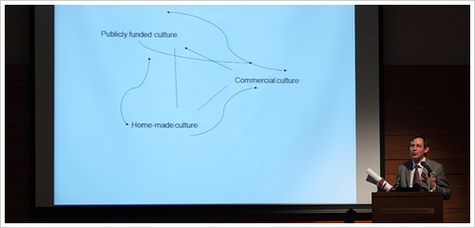 On March 6, 2010, The Japan Foundation, British Council and Association for Corporate Support of the Arts jointly invited Prof. John Holden, former Head of Culture of at the British independent think tank Demos, to provide a public lecture at the International House of Japan.
Lecture
Prof. Holden started out with his impressions on Japan and general description of Demos before moving on to the subject of lecture. He pointed out that in recent years diplomacy has been popularized and the concept of culture itself has been transformed from dichotomous notions of high culture and popular culture to three spheres of culture, namely publicly funded culture, commercial culture, and home-made culture. Based on transformations, he argued that culture now defines politics, not the other way round, and that culture should not be merely used as a tool of diplomacy. He stressed the increasing importance of culture with three examples - economy, foreign relations and identity formation. He concluded that culture should be independent from politics and cultural diplomacy should be the one that focuses on individuals, because "we are all diplomats now."
>> Click here for video clip of Lecture
>> Click here for text (PDF) of Lecture (284KB)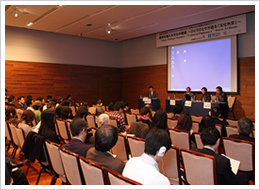 Discussion
Following the lecture, Prof. John Holden discussed with Prof. Sumiko Kumakura (Tokyo University of the Arts) and Prof. Yasushi Watanabe (Keio University), moderated by Tadashi Ogawa, Managing Director of the Japanese Studies and Intellectual Exchange Department. Prof. Kumakura gave her comments based on her experience in England where she observed cultural activities of an opera performance by homeless people. Prof. Watanabe pointed out that some countries were promoting their culture as their national strategies, while he agreed with Prof. Holden's argument of the independence of culture. Then they had a discussion on the concept of culture based on Prof. Holden's propositions on the values and practices of culture. Questions from the audience even further stimulated the discussion.

Profile of the Lecturer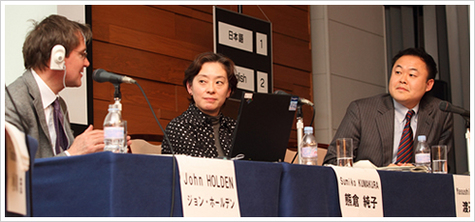 John Holden
(Visiting Professor at City University; an Associate at Demos in the UK)
Professor Holden was Head of Culture of the leading British think tank Demos until September 2008. He has Masters Degrees in law and art history and his main professional interest is in the development of people and organisations in the cultural sector. He has been involved in numerous major projects across the sector, from libraries to music to heritage, and has worked with many organisations both large and small. He was a principal organiser of the influential Valuing Culture conference in June 2003, and has developed a theme of work around the topic of cultural value. He has spoken at many conferences in the UK, and also in Finland, the U.S., Australia and New Zealand. John is a member of the Management Committee of the Clore Leadership Programme, and a FRSA. He is the author of many reports including Cultural Diplomacy and Cultural Value and the Crisis of Legitimacy.
Prof. Sumiko Kumakura
(Tokyo University of the Arts, Department of Musical Creativity and the Environment)
Sumiko Kumakura studied at the Universite Paris X and earned a Bachelor of Arts in French Literature and Aesthetics and Science of Arts from Keio University and a Masters Degree in Philosophy from the Graduate School of Keio University. She was a director at Kigyo Mecenat Kyogikai (the Association for Corporate Support of the Arts) from 1992 to 2002. She is actively involved in the research and development of support for the arts by corporations and foundations and community-based art projects. She has held her present post since 2002. She is presently working in areas such as Cultural Policy and Arts Management.

Prof. Yasushi Watanabe
(Keio University, Graduate School of Media and Governance)
Yasushi Watanabe earned a PhD from Harvard University. After a post-doctoral research at Cambridge, Oxford, and Harvard Universities, he has held his present post since 2006. He is presently working on such subjects as Cultural Policy, Cultural Diplomacy, and American Studies. His books include "After America: Trajectories of the Bostonians and the Politics of Culture," which won a Suntory Prize for Social Science and Humanities and a Hiroshi Shimizu Award of the Japanese Association for American Studies and "The American Family: Across the Class Divide" and "American Center" (Japanese).