The Japan Foundation, Bangkok:Japan was the Guest of Honor at the 8th Bangkok International Book Fair
The Japan Foundation, Bangkok


From March 26 to April 6, 2010, The 8th Bangkok International Book Fair (BKKIBF) took place at the Queen Sirikit National Convention Center, and Japan presented itself as the Guest of Honor. Japan Book Publishers Association, Publishers Association for Cultural Exchange, Japan, and The Japan Foundation co-organized this honorable appearance.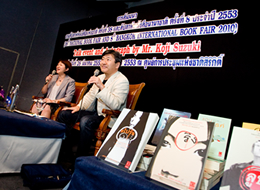 The Guests of Honor in the last seven occasions of BKKIBF were China, Korea, ASEAN countries, UK, Taiwan, Germany, and France with Francophone countries. While other major countries of Asia and Europe had already been introduced to Thai, none of Japanese publishers has ever participated as exhibitors at BKKIBF, not to mention the nomination as the Guest of Honor. Throughout these years, the Publishers and Booksellers Association of Thailand, the organizer of BKKIBF, had been eagerly appealing to Japan Book Publishers Association to place Japan as the Guest of Honor but to no avail. In 2010, they finally fulfilled their objective and Japan became the Guest of Honor at the 8th BKKIBF. Japan had already made honorable appearances at several international book fairs: Frankfurt in 1990, Taipei and Paris in 2002, and Seoul in 2009. BKKIBF was the first such occasion for Japan in Southeast Asia.



Guest of Honor's activities included an exhibition of about 550 books on Humanities at the Japan booth, an exhibition of winners of book design competitions at a special exhibition area. There were also lectures and workshops by Japanese authors, publishers, and artists who were invited to Thailand, including Koji Suzuki, Hideyuki Matsubara (authors); Kyoko Kumagai (Manga artist); Milky Isobe (book designer); and Mariko Kinoshita (calligrapher).
Amazingly, 1.6 million people in total visited BKKIBF in 12 days, exceeding the previous fair's record of 1.4 million visitors, despite political instability of Thailand caused by anti-government rallies and demonstrations. According to Japan Book Publishers Association, Korea is the predominant country with the number of translations of Japanese books published, followed by China and Taiwan. Thailand comes in next to these countries with a high level of interest in Japanese publications. We hope that BKKIBF triggered further exchange in publishing between Japan and Thailand.