The Japan Foundation, Mexico:Japanese Crossed the Sea to Mexico, Far Away from Home - Intellectual Exchange on Nikkei diaspora
The Japan Foundation, Mexico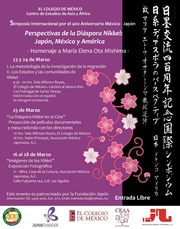 A year from 2009 to 2010 was the 400th Anniversary of Japan-Mexico Relations, and many relevant events were held. At El Colegio de Mexico (The College of Mexico), a series of events to explore the issues of Nikkei (Japanese descendant) diaspora entitled "The International Symposium for the 400th Anniversary of Mexico-Japan Relations 'Perspectives of Nikkei diaspora: Japan, Mexico and America'" was held.

The symposium started on March 23 with Part I "The methodology of migration research". As the title suggests, the methodology of studies on the Japanese immigrants and the Nikkei diaspora was reviewed from a wide variety of perspectives including history, anthropology, demography, sociology, gender, ethnicity, communication, and culture, as well as in terms of an interdisciplinary collaboration. The three-part session continued until next afternoon and concluded with a discussion on a prospect of these studies in the future.



It was immediately followed by Part II "The States and Nikkei Community" in which several presentations were made on policies and legislation on Nikkei diaspora and issues in Nikkei communities in North, Central, and South America as well as in Japan today. These presentations revealed the complexity of the issues of Nikkei diaspora, and presenters discussed about these issues at the end of the session.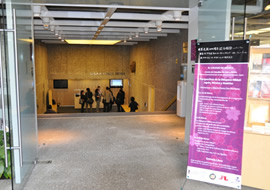 On March 25, a screening of documentary films entitled "Nikkei Diaspora in Film" took place. Three films on Nikkei immigrants in Mexico and Cuba were presented and panel discussions with directors were held. From March 16 to March 28, a photo exhibition "Pictures of the Nikkei" was also held at the Culture Hall of the Japan-Mexico Association.

This was an epoch-making project because it provided an opportunity for scholars who were engaging and made excellent achievements in researches and activities on Japanese immigrants and Nikkei diaspora in their countries and fields of interests to gather for presentations and discussions. Moreover, it was a rare occasion to review the issues of Nikkei diaspora from a wide range of perspectives including humanities and arts in addition to sociology.

We hope that participants in this project will broaden their network and enhance their studies and activities to contribute to the further development of the studies of Nikkei diaspora.