The Japan Foundation, Madrid:Hono-O-Daiko Ignited the Heart of Madrid
The Japan Foundation, Madrid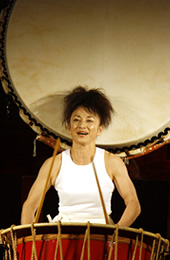 The Japan Foundation, Madrid is the Japan Foundation's youngest overseas office opened in April 2010. To promote further understanding of Japanese culture in Spain, we already have hosted a variety of events in the first six months.

Among them, we would like to share the report of Hono-O-Daiko performance in Madrid.

Hono-O-Daiko is a group of four female Wadaiko (Japanese drum) performers, and this was their third visit to Spain. In 2007, the Japan Foundation organized their first but extensive Spain tour visiting Madrid, Zaragoza, Calanda, and Barcelona. Their second visit was in 2008 when they had a special performance for Japan Day at Expo Zaragoza. The members said that a twist of fate brought them back in a year to Zaragoza, which was not as popular attraction to Japanese tourists as Madrid or Barcelona.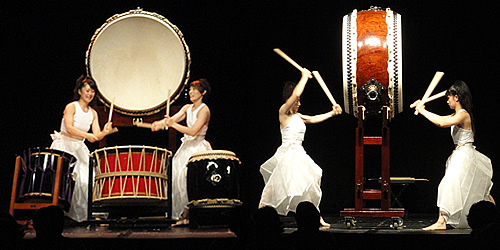 This October, Hono-O-Daiko came back to Spain for the third time by the invitation from the Medieval Festival (Festival Medieval d'Elx) in Elche, a town in southeast Spain. Hearing this news, the Circulo de Bellas Artes in Madrid that hosted Hono-O-Daiko's performance in 2007 was very eager to welcome the group back to their theater. The Director of Performance Arts at the Circulo de Bellas Artes saw their performance in 2007 and declared, "This is one of the most impressive performances in my entire career in theater." He has been a big fan of Hono-O-Daiko since then. This enthusiastic request realized the performance in Madrid.

Their performance in 2010 was held at the same venue as in 2007 for two days while it was only for one day three years ago. This additional quota of seats made both Hono-O-Daiko members and us at the Japan Foundation slightly anxious, but it was needless after all; the theater was packed with the audience up to the gallery for both days. Passionate performance of Hono-O-Daiko thrilled Spanish audience who were famous for their passion. They greeted the performers with a standing ovation and were still flushed with excitement when they left the theater. The Director described above cracked a joke, "We've got to make it three days next time." As their name suggests, Hono-O-Daiko ("hono-o" means flames and "O-daiko" means large Japanese drums), ignited the heart of Madrid.

The Japan Foundation, Madrid will offer more and more cultural and intellectual events to encourage people in Spain to be amigos of Japan.