The Japan Foundation, Sydney:Japan in Films: The 14th Japanese Film Festival and "Glimpses of Japan"
The Japan Foundation, Sydney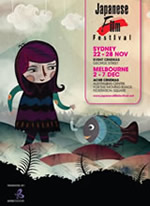 The 14th Japanese Film Festival is Coming Soon!
The Japan Foundation, Sydney hosts the 14th Japanese Film Festival in late November. We've gone all out for this annual occasion to introduce blockbusters and much-discussed films from Japan to Australian audiences. Special guests for this year's festival include Mr. Tadao Sato, a film critic who received the Japan Foundation Award for Arts and Culture 2010; Mr. Tsutomu Abe, director of "Kyoto Story"; and Mr. Naoyoshi Shiotani, the renowned animation studio Production I.G's enfant terrible. Panel discussions and special screenings with these VIP guests are also scheduled.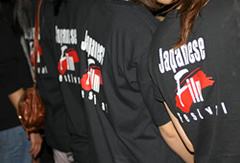 This film festival started in 1997 with only 3 films and an audience of 500 people. Since then, it has been growing steadily: at the 10th anniversary in 2006 commemorating the Australia-Japan Year of Exchange, it attracted 5,000 people with 15 films; in 2008, the festival hit Melbourne for the first time in its history, and total audience numbers for the 21 films reached 10,000. With 30 sponsors, the Japanese Film Festival has already established its status as a much-anticipated regular event that involves both public and private entities.
Official website: http://14th.japanesefilmfestival.net/

Glimpses of Japan - 30 years ago and Today: A film and discussion series
Invador, Candies, Takenoko-zoku, and Juken senso are terms that remind Japanese people of the 1970s and 80s. They refer to a video game, a pop idol group, youngsters dancing in tacky uniforms, and fiercely competitive college entrance examinations, respectively. These were the days when Japan's society and culture were going through drastic changes while its economy was experiencing rapid growth that reached to the "bubble economy".



Our film library has a collection of short documentary films produced with the intention of introducing Japanese culture and society to overseas audiences. Many of them were produced in the 1970s and 80s to show the "latest" face of Japan at that time. Today, these films provide a valuable insight into Japan three decades ago, and that would be beyond the intention of original producers.
In October, we held a casual film & talk series comprised of the screening of a 30 minute film, followed by a talk session with a leading Japanese studies expert. Four films were selected from our collection: Salary Man (1975), Voices of Young Japan (1979), The Hanawa Family (1980), and Manga: The Cartoon in Contemporary Japanese Life (1982). This event attempted to answer the question of how much, or how little, life in Japan has changed in the 30 years since the films were made. Participants asked many questions in the Q&A sessions with the expert, such as "Is there any change in Japanese corporate culture and group mentality?", "Has there been any progress in women's social advancement?" and "What kind of measures are the Japanese government taking to address the issues of the declining birthrate and an aging population?". These questions and more resulted in lively discussions at each event.