India's First Large-scale Manga Café Opens at the Japan Foundation
Machiko Yamamura
The Japan Foundation, New Delhi


Left: Inside the Manga Café, Right: Manga Café exterior
The Japan Foundation New Delhi joined in the fun at the 20th New Delhi World Book Fair held from February 25 to March 4, 2012, with its Manga Café stall, showcasing more than 500 of the latest Japanese manga books translated into English.
A decade ago, Japanese anime and manga in India might have simply been dismissed as children's entertainment like Doraemon, but this has changed over the years. Since people can now watch a variety of programs thanks to anime channels and the spread of computers, there is increasing interest among the Indian youth. Now, major cities including Delhi and Mumbai even have their own anime fan clubs.
Nevertheless, unlike watching programs on television, most people rarely have the chance to see actual Japanese manga books in India. Thus, our Manga Café at the book fair attracted great attention from day one, enjoying coverage by several local media, and was visited by many Delhi residents who are always game for something new.
At the Café, there were excited youngsters telling each other, "I love Bleach!" or "I've seen Naruto and One Piece on television, too!" Others were glued to the latest manga books such as Kimi ni Todoke: From Me to You or Black Butler, and there were even families who had traveled all the way to New Delhi, with parents saying they had come because their children were studying Japanese. The Café also had costumes from Hetalia: Axis Powers and D.Gray-man and a display of K-On! and Rurouni Kenshin character figurines to allow people to really get a feel for the broad-ranging world of manga and anime, and this also delighted visitors.
The Japan Foundation's temporary stall at the 20th New Delhi World Book Fair was India's first large-scale Manga Café and it proved to be a great success, attracting more than 12,000 visitors in nine days.
Japanese manga and anime are becoming popular, but still, it is virtually impossible for the average person to get hold of a Japanese manga book in India. For this reason and based on our success at the book fair, we decided to open a new Manga Café section at the Japan Foundation New Delhi Library in April, so that visitors can enjoy manga books whenever they want. If you are ever in Delhi, do come and visit the Manga Café at the Japan Foundation!


Left: Posters and figures, Right: Visitors enjoying manga books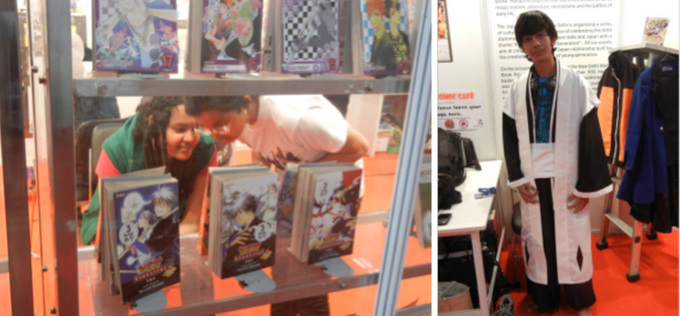 Left: Visitors enjoying manga books, Right: Visitor trying on a Bleach costume


Left: Visitors looking at figures, Right: Advertising the Manga Café stall in costumes