A Single Spider's Thread Connects Final Fantasy Creator Yoshitaka Amano with a Fan 4,000 Kilometers Across Brazil
Shingo Kajiwara
The Japan Foundation, São Paolo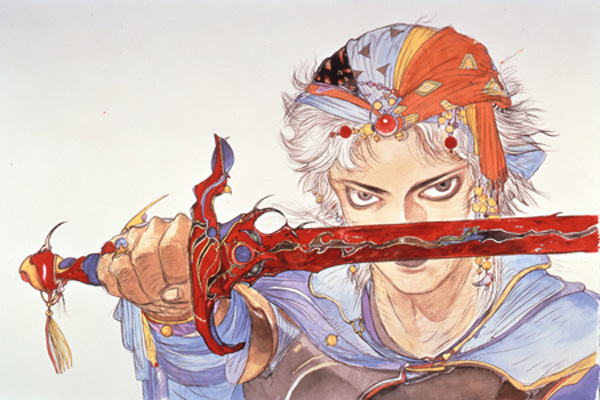 Red Sword (©Yoshitaka Amano)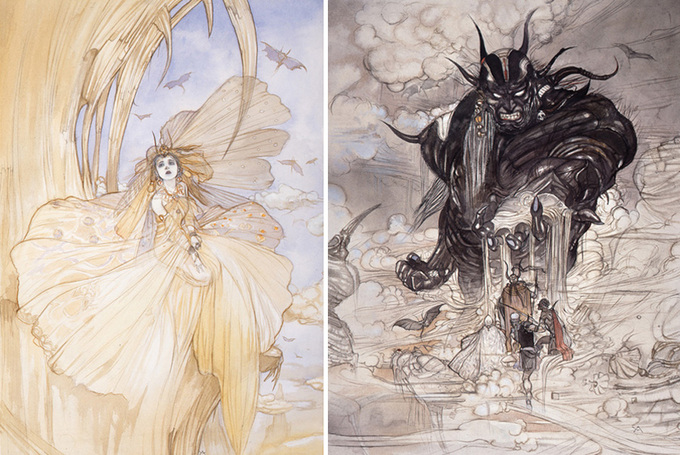 Left: Ray of Princess (©Yoshitaka Amano), Right: Crystal (©Yoshitaka Amano)
"Why not ask Yoshitaka Amano to come to Brazil?"
It all started off with this suggestion by one of the staff.
Yoshitaka Amano is the artistic designer for Final Fantasy, the internationally successful game franchise with a huge following worldwide. Unsurprisingly, Brazil is no exception with its own share of Amano fans, and there was no doubt that his visit to Brazil would make a huge splash. But the problem was how to make it happen. It was as if we were relying on a single frail thread of spider silk.
Since we had no connections to work with, we searched the internet and asked other Japan Foundation offices, and at last, discovered how to contact Amano's agency. Then, much to our surprise, things just fell into place, and so it was that we ended up participating in Expo GameWorld, the annual gaming event in São Paolo, where we held a lecture and exhibition by Yoshitaka Amano.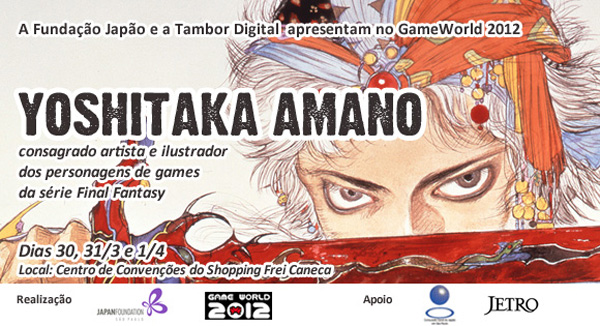 Poster for Expo GameWorld


Left: GameWorld entrance, Right: Lecture hall packed with fans
Amano had told us that he was a little unsure about speaking in front of a crowd since his job was to draw pictures. But with the help of general manager Mariko Suzuki, the lecture became a fantastic event introducing the real Yoshitaka Amano to delighted fans.
The Brazilian audience included many aspiring game creators influenced by Final Fantasy. Amano told them, "I approached Final Fantasy the way I do any other work, and that's to visualize the world I have in my head. Then, the images simply developed into game characters or manga, books, and so on. Games are only a means of expression. So there's no need to change what you want to say to make it fit the medium. What's important is your passion to express yourself."


Left: Amano lecturing, Right: Being interviewed by a TV crew at the exhibition space
An autograph session limited to 100 participants was held after the lecture, and as Amano was about to finish signing, we noticed there was a commotion outside. A young boy was begging security to let him in. One of the staff went to see what was the matter and learned that the boy had traveled all the way from a town called Recife, 2,600 kilometers from São Paolo (equivalent to the distance between Wakkanai, in Hokkaido Prefecture in northern Japan, and Kagoshima Prefecture in the south), to see Amano, but he had not been lucky enough to be one of the 100 to receive an autograph. Seeing the situation, Amano decided to make an exception and signed an autograph for the boy, who wiped tears of joy from his cheeks with the palms of his hands.
But there was more. As Amano was having lunch with the host of GameWorld, the host received a call on his mobile phone reporting that there was a boy screaming in the exhibition hall. This boy had come from the state of Roraima to see Amano. Roraima is a state bordering Venezuela, and is more than 4,000 kilometers away from São Paolo. Upon hearing this, Amano picked up his pen and started drawing a picture for the boy. The host delivered the picture when he returned to the venue, and later, Amano received a message from the boy that said, "I'd thought it was impossible to get your autograph, so I will never forget this day for as long as I live. I have the deepest respect for you and your wonderful work. Thank you very much."
At first I thought we were embarking on an impossible mission asking Yoshitaka Amano to come to Brazil. It felt as though we were tugging on a thread of spider's silk. But before we knew it, that thread had spun all over like a spider's web, covering the whole of Brazil. It was an amazing experience to see the power of Amano's work, motivating people to travel 4,000 kilometers across the country, and it also made us realize the power of the art and culture that we are tasked to promote. Again, it was the strong respect the boys felt for Amano that had made them cover huge distances to meet him.
Now, the Japan Foundation, São Paulo is in possession of four pieces entitled In Brazil drawn by Amano during his visit. This new work and other pieces will be exhibited at the Joh Mabe Espaço Arte & Cultura from May 10 to May 30, 2012.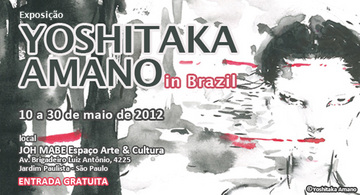 Poster for Joh Mabe Espaço Arte & Cultura