"Japanese Language Teachers' Conventions" Held in Myanmar with the Goal of Creating Networks Between Teachers
Tomonari Tanabe (Senior Japanese Language Specialist dispatched to the Japan Foundation, Myanmar)
Sachika Yanagatsubo (former Japanese Language Specialist dispatched to the Japan Foundation, Beijing)


Myanmar, a country that was closed politically for decades, made the transition to civilian rule in March 2011. Since shifting to an open economic policy, the country is now attracting the attention of the world. A large number of Japanese companies are beginning to enter Myanmar, a fact that many people have already known from news stories and other reports. Demand for personnel who can speak Japanese is also increasing, and many signs advertising private Japanese language schools have sprung up in cities. Until 2012, the number of people who took the Japanese Language Proficiency Test remained steady at between 2,000 and 2,500. However, some estimate that figure will exceed 5,000 people in 2014.
Japanese language education in Myanmar has long centered on foreign language universities in the two major cities of Yangon and Mandalay. However, as mentioned above, the number of private Japanese language education institutions has begun to steadily increase. One problem that remains is Myanmar's lack of networks for teachers, such as the Association of Japanese Language Teachers. This is due to the country's long period under military rule, when freedom of assembly was restricted. For similar reasons, open exchange between private Japanese language institutions and staff at national universities, who are national public servants, was also difficult.
Since 2007, seminars for Japanese language teachers have been held once or twice per year with instruction provided by a Japanese language specialist dispatched from the Japan Foundation, Bangkok. However, until now these seminars did not bring together staff at foreign language universities who are public servants and private Japanese language teachers. Fortunately, the relaxing of political regulations has given rise to a climate in which university staff can participate in joint seminars with the private sector, provided they have the approval of the university's president.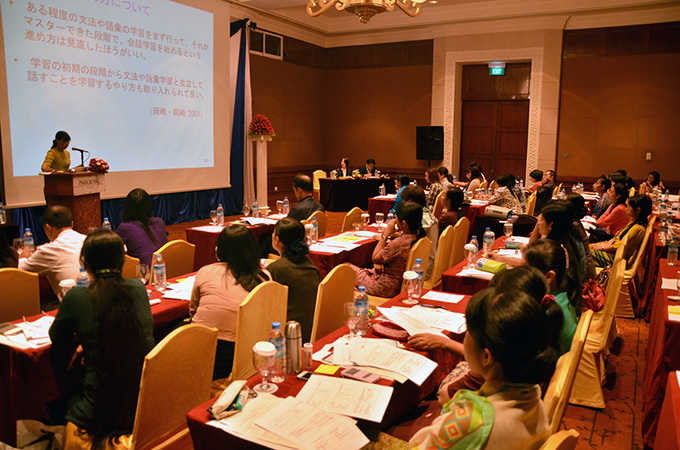 Presentation by a teacher from Myanmar

It was in this context that Myanmar's first joint public-private large-scale Japanese language teachers' seminars, the "Myanmar Japanese Language Teachers' Conventions," came to be held in October. The Japan Foundation dispatched Sachika Yanagatsubo under its Capacity Building Support program. The "Japanese Language Teachers' Convention" was held in Yangon and Mandalay, a major northern city on October 6 and October 8 respectively. The conventions were aimed at Japanese language teachers, both from Myanmar and Japan, who teach the Japanese language in each of those regions. Ultimately a total of 82 people took part, including 56 participants in Yangon and 26 in Mandalay. In addition to the core Japanese language education institutions of the University of Foreign Languages, Yangon and the University of Foreign Languages, Mandalay, these events also attracted many participants from private Japanese language schools.
These seminars held in response to the changes of the times mentioned above in many ways reflected the changes in Myanmar society and several new approaches were adopted. Those approaches included first, incorporating input from local teachers instead of having them passively learn, and second, having participants think about Japanese language education in the region together in a way that transcend their affiliation, age or position while encouraging them to undertake self-reflection and to exchange opinions through workshop-style training.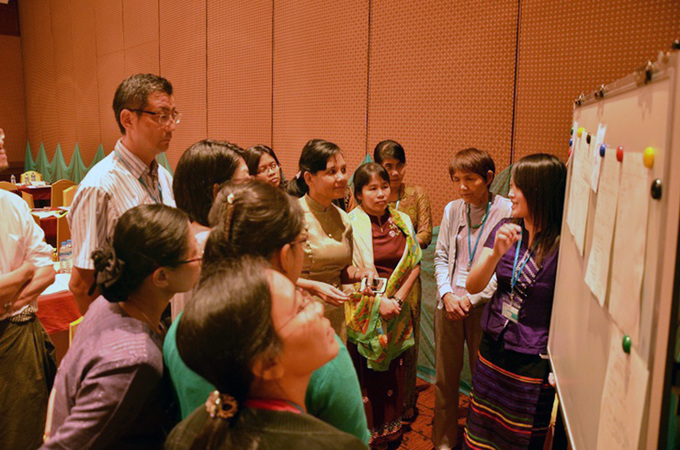 Explaining a lesson plan created by a group

The topic of the first discussion at the seminars was to "think about our own problems ourselves." The groups discussed "what is needed to enhance Japanese education in Myanmar?" Together, participants considered problems and planned future solutions.

Below are some of the views put forward by participants:

"It is quite difficult to get teaching materials (in Myanmar)."
"We would like to know how to listen to Japanese radio." (Internet connections in Myanmar are unstable so it can be difficult to access dialogue and videos.)
"There should be networking between students and Japanese people."
"We would like to teach Japanese culture and other aspects of Japan."

In the course of holding the group discussions, smiles began to appear on the teachers' faces and a relaxed atmosphere was created. The group discussions were followed by lectures and lesson plan creation. The lesson plans were shared using a poster-presentation format. Among the scenes that occurred were young teachers giving presentations in Japanese with great enthusiasm, and then received advice on their presentations from more experienced teachers.



Group discussions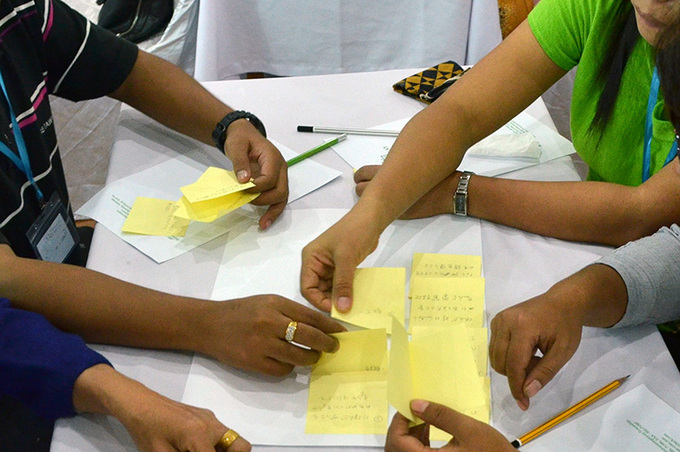 Participants writing out their personal challenges and measures to overcome them on Post-it notes

At each session, five teachers from Myanmar gave presentations in Japanese on their personal practices and current efforts. The presentation themes covered a broad range: "Teaching the acquisition of 'wa' and 'ga' in Japanese," "Introducing (Japanese) characters at a beginner level," "Communication-focused activities for cultivating speaking ability," "A practical report on my school," "and "Developing supplementary teaching materials for writing business documents in Japanese." Many participants no doubt found these presentations to be very motivating.
The seminars were largely orchestrated by Japanese organizations such as the Japan Foundation and the Embassy of Japan in Myanmar. However, ideally they will eventually continue as events planned by the regional networks themselves, with the support of the Japan Foundation and dispatched experts. Unfortunately, under the present circumstances, there is still scant likelihood of a teachers' organization being formed in this region that brings together the various institutions. Nevertheless, we will be able to have a hope for a bright future if teachers in Myanmar can get to know each other more and more by continuing to gather through these events and seminars.





Tomonari Tanabe
Senior Japanese Language Specialist dispatched to the Japan Foundation, Myanmar. His area of expertise is Japanese linguistics (syntax and semantics). Drawing on his experience of being dispatched to China and India, he currently provides support for Japanese language education at the Japanese Language Department of the University of Foreign Languages, Yangon.


Sachika Yanagatsubo
Former Japanese Language Specialist dispatched to the Japan Foundation, Beijing. She has broad-ranging experience as a Japanese language teaching specialist, including involvement with the creation of teaching materials and teacher training in Germany, Hungary and China.