A Step Toward Sharing Ideas: Japan-Korea Young Cultural Dialogue Program
Yasutaka Takeda (The Japan Foundation Asia Center)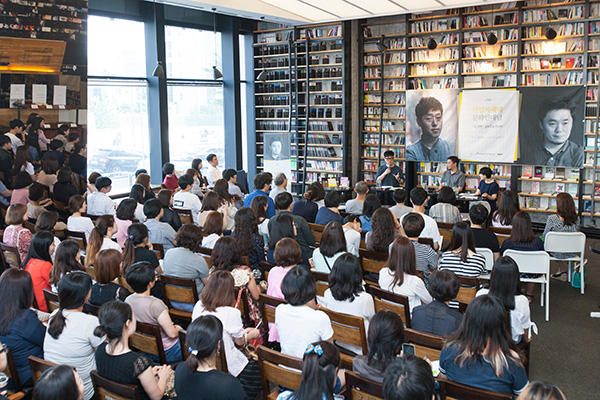 The third of the dialogue series featuring Bunpei Yorifuji and Kim Jung-hyuk (June 2016, Seoul)
Four years at the Japan Foundation, Seoul
I was transferred to the Japan Foundation, Seoulin April 2012, and worked there for a period of approximately four years. During that period, various bilateral issues came to the surface and the relationship between Japan and Korea was rather unfriendly. In the field of arts and culture, on the other hand, I believe that the exchanges between the two countries made steady progress.

For instance, in the period from 2013 through 2014, a series of exhibitions was organized by the Korean side and attracted large audiences. The series includes the Yayoi Kusama Exhibition, the Takashi Murakami Exhibition, and the Studio Ghibli Exhibition. In the field of theater, nowadays it is not uncommon for Japanese plays to be performed in Korea, or for Japanese producers to stage plays there. Japanese and Korean theaters often collaborate in the creation of new works. One recent example is the play Kamome/Galmaegi [Seagull]. Written by Korean playwright Sung Ki-woong and directed by Japan's Junnosuke Tada, it was performed in both countries and received enormous responses. As for the reception of Korean culture in Japan, although the initial rapturous response to K-POP and Korean films and musicals has somewhat subsided, these art forms have gained a solid base of fans here.

The Birth of the Japan-Korea Young Cultural Dialogue Program
In 2015, the year we celebrated the 50th anniversary of the normalization of relations between Japan and the Republic of Korea, the bilateral relationship was difficult, but the mutual interest in each other's culture showed no signs of weakening and exchanges in the private sector and on the local government level were going strong. Against this backdrop, as an organization engaged in implementation of programs designed to advance mutual understanding through cultural exchanges, the Japan Foundation was exploring possibilities for what it should and could do, and how it could create opportunities for promoting exchanges with a view of the next 50 years based on the experience of the 50 years so far.

Amidst this search, I suddenly remembered a certain project that we had implemented in the early summer of 2014. Around the same time as the Seoul International Book Fair 2014 was held, the Japan Foundation, Seoul invited Naoki Prize recipient Ryo Asai to Korea and organized an open dialogue between Asai and a young Korean female writer, Chung Serang1. Although the two novelists met for the first time, they immediately hit it off and engaged in a lively discussion on a variety of topics. I remember that there were many common issues on which the participants focused their attention and developed empathy. I believe that happened not simply because both of them were novelists, but perhaps because, as young people in their twenties, they experienced similar joys and anxieties in their respective countries.

This experience gave me the idea to serialize this kind of dialogue between representatives of the younger generation. After a series of internal examinations, we came up with theJapan-Korea Young Cultural Dialogue Program. Roughly, the program envisioned requesting cultural figures from Japan and Korea in their twenties up to mid-forties engaged in vigorous activities in their respective countries to conduct open dialogues both in Japan and in Korea capitalizing on their potential as leaders of the next generation. In principle, we would pair up participants who have had no previous direct contact with each other, regardless of whether they engaged in activities in the same field. The content of the dialogues was to be published both in Japanese and Korean at a later date. Fortunately, we gained the cooperation of the Tokyo Office of the Korea Foundation and CUON Inc., a publishing company that actively publishes Korean literary works in Japanese, and the program was advanced through the collaboration among these two organizations and the Japan Foundation. The condition that the participants in the dialogue must not have previous contact with each other significantly complicated the selection process, but we received positive response from ten cultural figures--five from each country--who were actively engaged at the frontline of their respective fields of expression2.
First Dialogue: Ryo Asai and Chung Serang
The first of the dialogue series was held in Tokyo and featured the participants from the previous year, Ryo Asai and Chung Serang. Nearly 200 people packed the venue of the dialogue at Asai's alma mater, Waseda University. The dialogue between the two writers took off as if uninterrupted by a year-long pause, and moved on from expressing impressions of each other's works to discussing the cultural environment in their respective countries. As moderator of the dialogue, from my seat at the stage I could feel the eagerness of the audience to catch every single word as they gradually deepened and expanded the content of their dialogue, searching for ways in which their generation of writers could enrich the appeal of the literary world. Also, Chung was really surprised by Asai's analysis that in Japan the majority of people write their CVs by hand because many believe that handwritten characters are filled with "love," while Asai expressed his envy upon learning that for more than a decade now CVs in Korea have been digitalized. As I observed this exchange between the two writers, I realized that we are surprisingly unaware of the lifestyle of ordinary people in each other's country3.
The first of the series in Japan featuring Ryo Asai and Chung Serang (July 2015, Tokyo)
Fourth Dialogue: Toshiki Okada and Ki Seulki
We received an ardent request for participation from playwright and producer Toshiki Okada. Apparently he had been greatly impressed by the works of Korean artist Ki Seulki, which he had seen at an art exhibition, and wanted to meet her at any cost. As a dialogue between two people from completely different fields, the event was promising to turn into a sort of contest between different schools of art and expression. "I had no idea who Mr. Okada was, but to my great surprise, all my acquaintances from the theatrical circles in Seoul knew of him. So Mr. Okada is a really famous person." These words of Ki Seulki convinced me that this would be an interesting dialogue. At the actual event held in Kyoto in March 2016, Ki Seulki, an artist who works alone using photographs as expressive media, asked Okada about his methods for overcoming creative block. In response, Okada shared that his works encompass the ideas of many people who collaborate in their creation, such as artists and staff members, and the final result is much better than the image he initially creates in his mind, so he has not suffered from creative block recently. After the end of the dialogue, Ki made a proposal to Okada to create a work together in commemoration of their encounter. This outcome greatly exceeded the initial intentions of the event organizers. Okada immediately agreed, and their joint project is currently under way.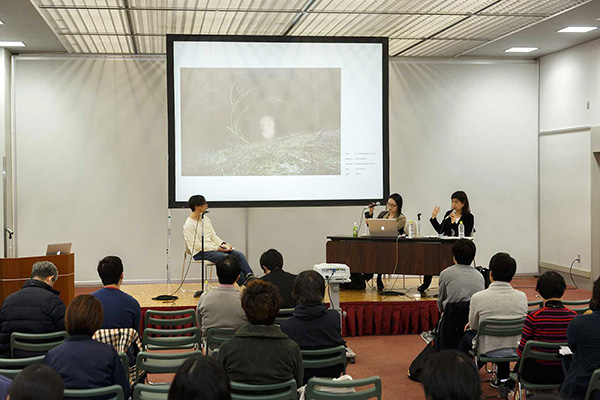 The fourth of the series in Japan featuring Toshiki Okada and Ki Seulki (March 2016, Kyoto)
Talking Together and Sharing Ideas
The dialogues of the five pairs were held at different locations and had entirely different content, but at the core they shared various similarities, such as an attitude to accept what the other side has to say and make an effort to understand it. All participants worked hard to absorb the ideas of their counterparts, including any concepts about which they felt doubtful or issues they found hard to understand, and at least tried to comprehend them. Next, the receiving side would throw back their own ideas. In other words, they were playing catch with ideas, and sharing them not only with each other but also with the audience. As a result, it was not necessary to be able to completely understand all ideas of the other side as long as you maintained an open and receptive attitude. This approach will surely give birth to new "seeds" of cultural activities, as seen in the case of Toshiki Okada and Ki Seulki. I believe that it is precisely this kind of experience that Japanese and Korean people need today. In that sense, I think we were not entirely wrong to add as a subtitle of this program the phrase "Talking Together and Sharing Ideas."
Yusuke Koshima and Ahn Keehyun, the participants in the Second Dialogue in Japan
Left: The participants visiting Ginkaku-ji Temple
Right: Commemorative photograph at the dialogue venue
Now I moved back to Japan and am no longer in charge of this program, but as its supporter, in the future I intend to keep a close eye on the process of reinventing the discussions and exchange of ideas between Japanese and Korean cultural leaders into seeds of interaction between the next generations in the two countries. I am also eagerly anticipating the publication of the dialogues next year.
*A compilation of the dialogues will be published first in Japanese by CUON Inc. next year and then in Korean by a Korean publishing company.
*The Korean translation of this article is available on the website of the Japan Foundation, Seoul: http://www.jpf.or.kr/column/news/201610/20161005000004.html
(Notes)
1: For more information, see "Together with the Readers Regardless of the Era Ryo Asai's First Visit to Korea."
2: The five pairs of participants in the dialogues are as follows: 1) Ryo Asai and Chung Serang (both novelists), 2) Yusuke Koshima and Ahn Keehyun (both architects), 3) Bunpei Yorifuji (designer) and Kim Jung-hyuk (novelist), 4) Toshiki Okada (playwright and producer) and Ki Seulki (artist), and 5) Miwa Nishikawa (film director and novelist) and Moon So-ri (actress).
3: An article about the dialogue between Asai and Chung in Tokyo is published in Waseda Bungaku (2015 Winter Edition).