African Film Across Borders: Building New Bridges of Cooperation (Vol. 1)
Film, Africa and "Me" of Japan
2020.2.3
Okajima Hisashi (Director, National Film Archive of Japan)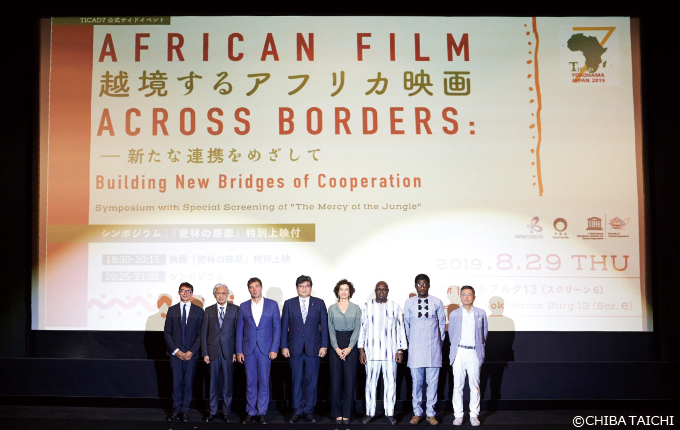 On the evening of August 29, 2019, a symposium entitled African Film Across Borders: Building New Bridges of Cooperation was held at Cinecon Yokohama Burg 13 in Sakuragi-cho, Yokohama (co-organized by the Japan Foundation, Ministry of Foreign Affairs and UNESCO). The symposium was positioned as an official side event of the 7th Tokyo International Conference on African Development (TICAD7) concurrently held in Yokohama. Prior to discussions at this event, there was also a special screening of the African film The Mercy of the Jungle (2018, directed by Joël Karekezi, a France-Belgium-Rwanda co-production).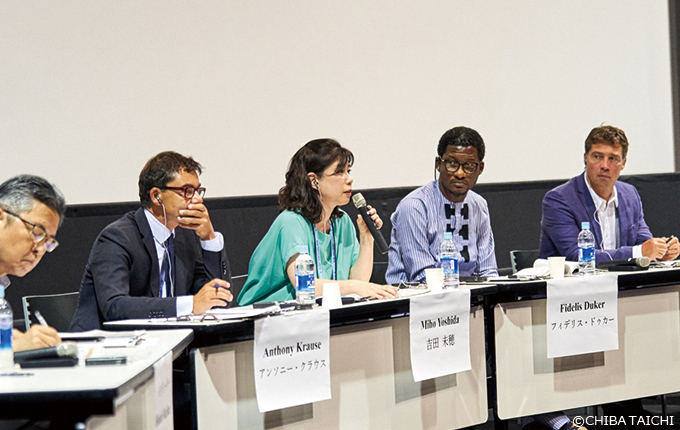 The symposium featured passionate discussions.
The symposium included a discussion by seven panelists who are prominent names in the film world, such as Kawase Naomi, a noted Japanese film director; Aurélien Bodinaux, producer of The Mercy in the Jungle; and Yoshida Miho, representative of Cinema Africa. I was also one of the panelists and served as moderator. Ardiouma Soma, of Burkina Faso, was my only acquaintance from Africa. I had met him twice at conferences for the International Federation of Film Archives (FIAF), an organization for preserving films. Exuding an air of dignity, Soma spoke about the importance of African films as representative of The Pan-African Film and Television Festival of Ouagadougou (FESPACO)*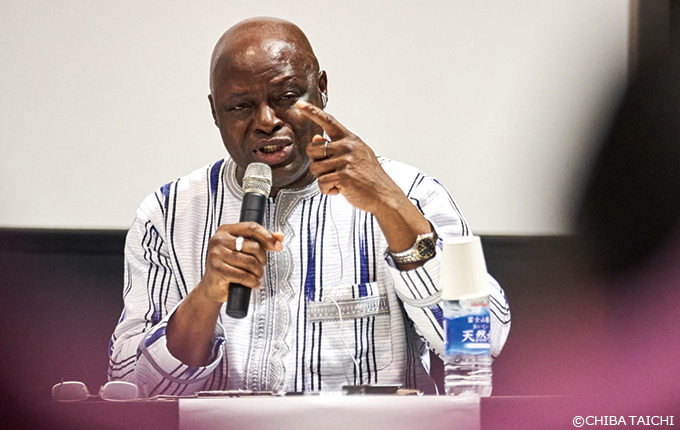 Ardiouma Soma
Another panelist from Africa was Fidelis Duker, director of the Abuja International Film Festival and one of the most famous producers in Nigeria's film industry. He was an outstanding gentleman who conveyed the sense that people in the movie industry are very similar everywhere in the world. It is well known that Nigeria produces the largest number of movies in the world alongside India. According to Duker, approximately 2,000 Nigerian films are produced and released each year and close to 80% of these are romance movies. I assume it means bright, healthy and fun movies filled with love and dreams have continuously been produced in Nigeria, which has a population of 190 million and boasts the largest economy in Africa. When I mentioned preserving films must be difficult, Duker softly replied with a look of seriousness, "We've got to all think together." Preserving films with all-out efforts at the national level and by the film industry, establishing appropriate film archives and taking sufficient and sustainable budgetary steps to do so are extremely urgent issues for any African film-producing country.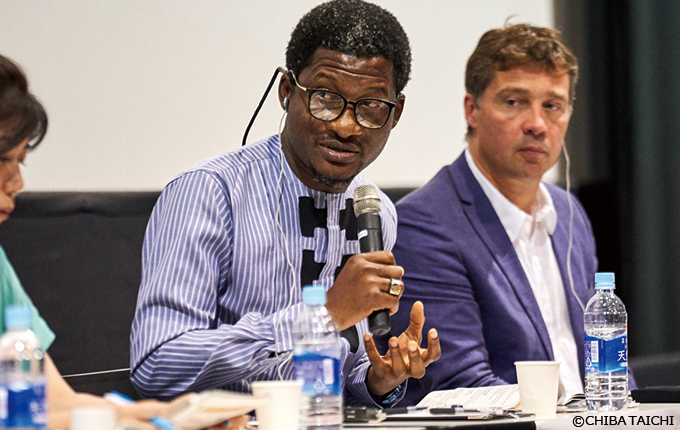 Fidelis Duker (center)
Despite serving as moderator, for me the African continent remains a faraway land. In fact, I have visited Africa only twice: Rabat, Morocco in the north and Pretoria, South Africa, both for the FIAF congresses. The first visit was to Morocco back in 2001 and the symposium theme then was "Colonial Cinema: A Borrowed Film Heritage." The second time was in 2011 and the theme was "Indigenous Film Collections in Africa and the World." Both times were opportunities that reminded me of the harsh realities of film preservation.
If asked, "What comes to mind when thinking of the relationship between Africa and films?" what would be the response of the average movie fans of my generation, namely, Japanese movie aficionados around their 60s? Unfortunately, they would have scant knowledge or memories of African films. Many people might cite films that cannot even be considered African movies, such as the American-made entertainment movie Hatari! (1961) by director Howard Hawks; a silent film West of Zanzibar (1928) directed by Tod Browning; a French film Moi, un noir (1958) directed by Jean Rouch; and such Japanese films as Bwana Toshi no Uta (1965) and A Tale of Africa (1980) directed by Susumu Hani. In other words, we think back nostalgically about The Gods Must Be Crazy starring Namibian actor N!xau that was a smash hit nearly 40 years ago (a 1980 film that has now been renamed with the Japanese title Khoisan Man). In relatively recent years, we have been inspired by Invictus directed by Clint Eastwood. Or we might only know Africa for its anonymity chosen as a film location because of its landscape resembling a distant planet. For example, we live in an age where we can journey back and forth between Africa with the help of such DVDs as the British film Zulu (1964) starring Stanley Baker; the German movie The White Masai (2005) based on the Corinne Hofmann novel; Hotel Rwanda (2004) and Beyond the Gates (2005), two works that depict the Rwandan genocide in 1994; and Captain Phillips (2013) starring Tom Hanks. Despite the existence of these movies, it is actually rare to encounter a genuine African film.
Iwanami Hall probably most enthusiastically screened African films mainly in the 1970s and 80s. In particular, it made major contributions with the screening of such superb films as Sembène Ousmane's Senegalese films Emitai (1971), Ceddo (1976) and Moolaadé (2004). In terms of releasing works at that time, although not screened at the Iwanami Hall, other memorable films included Yaaba (Grandmother) (1989) and the Tilaï (The Law) (1990), both directed by Idrissa Ouedraogo of Burkina Faso, who passed away in 2018. Remembering these films now, I have the feeling there was something transcendental and noble dwelling in the main characters and the landscapes.
Following such a small yet important African film boom, it was several grassroots African film festivals held through the unceasing efforts of relevant parties that created many opportunities to encounter genuine African films. The history and achievements are detailed in the booklet A CENTURY OF AFRICAN FILM (published by the Japan Foundation), which was edited and published specifically for this event. In addition, at the National Film Center of The National Museum of Modern Art, Tokyo (the predecessor of the National Film Archive of Japan), Cinema Africa 2010 that was co-organized by the Cinema Africa Executive Committee was held in November 2010 to commemorate the 100th anniversary of Japan-South Africa cooperation. That year, 26 years after the Japan Foundation's first African film festival in 1984, the screening of 19 programs and 30 films (including short films) was truly significant.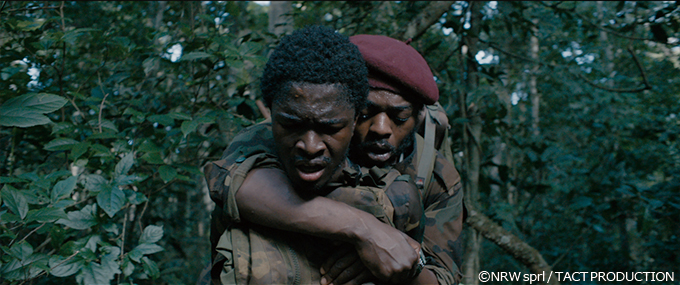 The Mercy of the Jungle by director Joël Karekezi
Screened prior to this symposium, The Mercy of the Jungle (2018) was an absolutely breathtaking film that also garnered the Grand Prix at this year's FESPACO. Set amid the Second Congo War in 1998, the film vividly depicts the struggles of two Rwandan soldiers lost in a hostile jungle as they desperately seek to reunite with their original unit in their panic-stricken psychological state. This film was 90 minutes of being overwhelmed by energy and passion gushing from the screen. While viewing this film, I began to see the two soldiers overlap with the main characters in several works of Kurosawa Akira. After I finished watching this film, I had the feeling that if the Congolese jungle was replaced by the Siberian Taiga (coniferous forest), this film would be very similar to Dersu Uzala, a 1975 Soviet-Japanese co-produced film directed by Kurosawa. Upon hearing my somewhat blunt analogy, producer Bodinaux smiled and said, "I'm rather honored by the comparison."
Africa is blessed with all types of gargantuan nature that adds unparalleled beauty to films. It goes without saying that the jungle is one example of such nature. Japan is also a country of forests. In my opinion, after Kurosawa, Kawase Naomi has been the filmmaker who depicts forests most beautifully or even cinematically and at times mythically. The first major retrospective in Japan, "Naomi Kawase Retrospective," which comprehensively screens her films, was held** at the National Film Archive (Nagase Memorial Theatre OZU) in Kyobashi since December 24, 2019.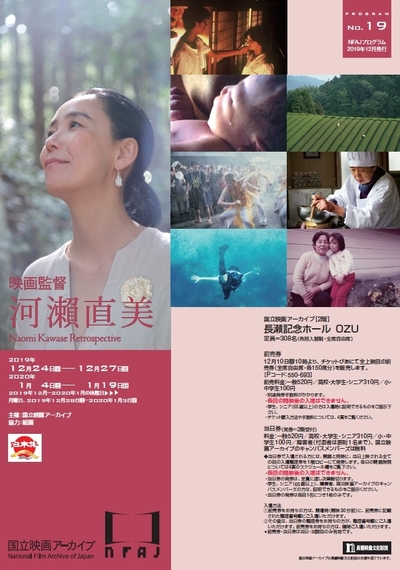 "Naomi Kawase Retrospective," the National Film Archive of Japan
It would be interesting to think of African films while watching Kawase's movies and vice versa. This far-fetched idea is still in my heart as I distinctly revive the memories of The Mercy of the Jungle.
* Click here for an account for FESPACO2019.
** This event ended on January 19, 2020.