Activity Reports:About Us :Opening Ceremony at the Japan Foundation's New Headquarters
Atsuko Nishimura
Administrative Vice President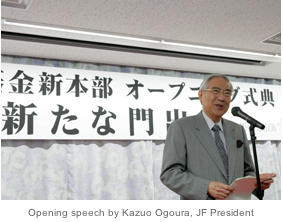 The Japan Foundation's headquarters moved from Akasaka to Yotsuya in the end of April. On the occasion of remodeling and moving completion, the new headquarters opening ceremony was held at JFIC Hall " SAKURA" on the second floor of the new headquarters on July 16.

We were graced with Her Imperial Highness Princess Hisako Takamado and Her Imperial Highness Princess Tsuguko of Takamado. After opening speech by Kazuo Ogoura, JF President, our guests of honor, Prof. Josef Kreiner of Hosei University, researcher of Japanese studies and a recipient of the Japan Foundation Award, and Ms. Hiroko Nakayama, director of Shinjuku Ward, gave their felicitations. Ribbon-cutting ceremony was followed in the presence of both Princesses to celebrate JF's new start. The ribbon was cut by three people associated with Shinjuku Ward, new home ground of JF: Mr. Kaoru Yosano, House of Representatives member, Ms. Nakayama and Mr. Senzo Nishikawa, master of classical Japanese dance performer, and JF President Ogoura. The ceremony was completed with a toast made by Mr. Hitoshi Kimura, Senior Vice- Minister for Foreign Affairs.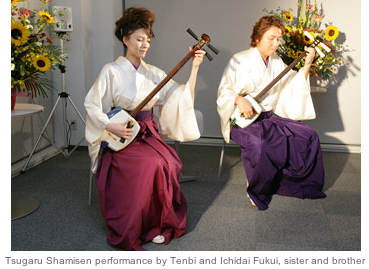 The first and second floor of the Japan Foundation headquarters is used for JFIC, the Japan Foundation Information Center, to provide information on international cultural exchange and Japanese culture, and the library was opened from July 22. We welcome every visitor to new JF.