Activity Reports:Arts and Cultural Exchange:Japan-East Asia Network of Exchange for Students and Youths/East Asia Future Leaders Programme < People's Exchange and Invitation Programme > Symbiosis with Environment-Nature and Sustainable, Recycling Societ
Aya Yokoi
Community Leaders and Youth Exchange Div.
The Japan Foundation invited NGO/NPO staff and educators, bearer of the future of East Asian communities, as a part of JENESYS, Japan-East Asia Network of Exchange for Students and Youths Programme.

In relation to the Hokkaido Toyako Summit, the symposium theme this time is Symbiosis with Environment-Nature and Sustainable, Recycling Society and 48 participants including NGO/NPO staff tackling with environmental problems and elementary/secondary teachers/educators promoting environmental education from 15 countries: 10 ASEAN countries, China, Korea, India, Australia and New Zealand.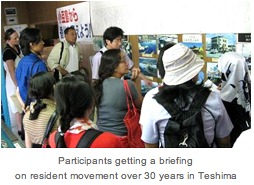 During their two-week stay in Japan from June 3 to 16 , participants observed traditional view of nature based on symbiosis with nature, culture, and challenges to realize sustainable, recycling society by the Japanese governments, schools, corporations and NGO/NPO through lectures, workshops and visiting facilities.

After receiving a lecture on Japan's environmental problems and education in Tokyo, participants moved to Kagawa Prefecture. They first visited Teshima, one of the islands in the Seto Inland Sea. They were too shocked to say a word by the scale of illegal dumping site of industrial waste, the Japan's largest, and a long time of over 30 years that residents campaigned to get their beautiful island back. Not a few of them took it as their own problem because economy is developed and consumption is being expanded in their countries.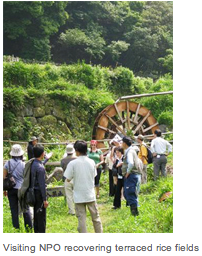 They also experienced homestay in Kagawa Prefecture. A participant from China was so impressed with separating trash that she took pictures of the guidelines for it and mother of the family actually separating trash.

In Nara Prefecture, they took a look at the town of old houses and NPO activities to recover terraced rice fields. Then they went to Todai Temple to listen to a story on traditional view of nature in Japan. Participants from Philippines and Indonesia were amazed at how Japan can observe traditional culture and develop leading-edge technology at the same time. Seeing something new and different from modern image they saw in Tokyo, they deepened their understanding and affinity for Japan.
Participants visited an elementary school and a high school to see environmental education and facilities for it and environment-friendly renovation of a school building. They admire that school teaches environmental education in various ways in Japan and as a result, children are environmentally conscious. Many of participants mentioned that their happiest experience was eating school lunch at an elementary school.
They also visited NGO/NPO combating environmental problems and disseminating environmental education. There are many programs and facilities that participants would like to bring back home to implement. A school teacher from Thailand was very eager to introduce Eco Card used in Nishinomiya City to his school.

During limited two-week stay, participants voluntarily sought opportunity to exchange opinions, taking time out of their busy schedule, and talked about their country's situation and common problems late into the night. In the symposium held on the last day, they affirmed that environmental problems are the problem every nation faces, and they would cooperate with friends they met in this programme to continue to tackle with environmental problems. During an individual presentation, a presenter got so emotional when she talked about victim of environmental problem in Philippines that other participants were in nearly tears one after another. Many of them seemed to relate environmental problems in other countries to their own life and took them as their own problems.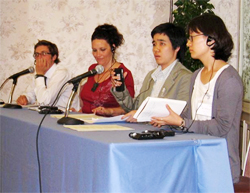 The Programme achieved a substantial result that young people who are expected to lead their countries assembled to exchange and agreed to network for future cooperation. We hope that their network will expand in Asia