Japonismes 2018: les âmes en résonance
The harmony of Japanese and French culture
Korehito Masuda
(Former Director General of the Japan Foundation Secretatriat for JAPONISMES)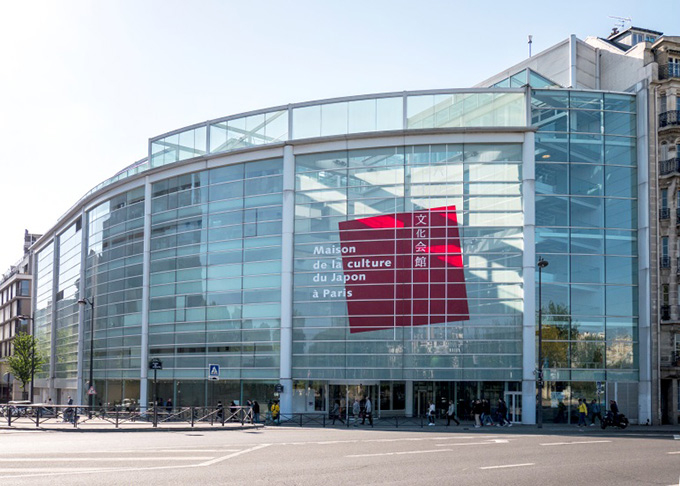 Exterior of the Japan Cultural Institute in Paris. The building served as a gathering place during Japonismes 2018, hosting art shows, film screenings, lectures, and workshops.
Japonismes 2018: les âmes en résonance, a major Japanese arts and culture festival celebrating 160 years of friendship between Japan and France was held from July 2018 through February 2019 in France. The festival was a great success, drawing crowds of visitors from across France with a diverse array of exhibitions, lectures, visual enterprises, and cultural exchange events grounded in Japan's way of life including foods and festivals. Among the highlights were ancient Jomon artifacts, works by Itō Jakuchū and the Rinpa school, and the latest media art, anime, and manga, along with performances of Kabuki, contemporary theater, and virtual singer Hatsune Miku.
 His Imperial Highness the Crown Prince visited Japonismes 2018 in September 2018 and participated in several events, including an Itō Jakuchū exhibition, a Shochiku Grand Kabuki performance, and an Eiffel Tower lighting ceremony. "I was deeply impressed that the people of France were so interested in Japan, and that so many were seeking to learn more about Japan," he said in an interview for Japanese television.
 Ever since Japan first embarked on its path to modernization, France has been an object of admiration for many Japanese. Nearly 100 years ago, Sakutaro Hagiwara, the "father of modern Japanese poetry," wrote in his collection Junjo shokyoku shu: "I want to go to France / But France is so far away / If only I could journey there carefree / Wearing a new suit..." But today, the tables are starting to turn.
 You'd never imagine just how many French people admire Japan.
Paris: Capital of Japan?
 We started Japonismes 2018 with a bold declaration: "Let's create a Japanese sensation in France and help the French people rediscover Japan they've never known." The response was far beyond anything we imagined. Over three million visitors experienced the festival's more than 70 official programs and more than 200 associate programs. The Secretariat for JAPONISMES divided these events into four categories— exhibitions, performances, films, and lifestyles—and provided planning, coordination, and operation services. The exhibition category alone attracted nearly a million visitors, with "teamLab: Au-delà des limites" counting over 300,000 and Jakuchū's Dōshoku sai-e about 75,000. Not a day went by without a new article on Japonismes 2018 in the French press, and the July 14, 2018 issue of French weekly magazine TELERAMA even ran a story titled "Japonismes 2018: Paris, Capital of Japan."
Stage artists win acclaim with biting takes on modern society
 Alongside traditional arts like Kabuki, Noh, Bunraku, and Buyo dance, the performing arts category featured acclaimed performances of Hideki Noda's In the forest, under cherries in full bloom as well as a series of modern pieces by up-and-coming directors. One of the standouts was WAREWARE NO MOROMORO, by director Hideto Iwai. The play is a compilation of stories told by amateur and professional French actors about themselves, as reimagined by Iwai, who had spent some time in the city of Gennevilliers in Northern Paris. From Abdallah, a second-generation Moroccan immigrant and labor activist, to Salima, who recalls bitter memories of violence in her family's homeland of Algeria, the play depicts the daunting problems people in this immigrant-rich community face living in modern France. The play's success is all the more surprising in that it was Iwai, a Japanese, and not a Frenchman who brought these stories to life.
The allure of local culture

 Among the many cultural events I attended during my stay in Paris, one of the most unforgettable was "Vitality of Local Cultures and Matsuri," held from mid- to late October in the Bois de Boulogne's Jardin d'Acclimatation and the Japan Cultural Institute in Paris. The event brought seven of Japan's major festivals (Tachineputa from Goshogawara, Aomori; Onikenbai and Sansa Odori from Iwate; Gyotoku Mikoshi from Ichikawa, Chiba; Shingen-ko Festival from Yamanashi; On Matsuri from Nara; Awa-odori from Tokushima, and Yosakoi from Kochi) together for the first time in history. The Japan Foundation collaborated with local governments to bring over 350 participants from all over Japan (over 500 counting France-based participants and those sent independently by Japanese local governments). The three-day event drew 60,000 visitors to the Jardin d'Acclimatation, where they experienced the diversity of Japanese culture and the allure of its different regions. Some of the visiting Japanese luminaries even made their pitches in fluent French. An 11-meter-tall Tachineputa float from Goshogawara in Aomori dominated the park; the sight of it being brought in for rehearsals the day before the event brought tears to my eyes. The park's director was elated by the event: "For the three days of this Japanese festival, the Jardin d'Acclimatation was like another island in the Japanese archipelago." Multiple governments and travel companies set up booths in the park, including the Japan National Tourism Organization, and numerous pop-up food stands added to the festive atmosphere. The event helped paint a picture of Japan as an attractive tourist destination, and I believe it contributed to one of Japonismes 2018's chief goals: bringing in more inbound tourism to the 2020 Tokyo Olympics and Paralympics.


Yosakoi from Kochi

Educational legacy

 The Secretariat wished for Japonismes 2018 to be more than just a passing phenomenon, and so one of our main areas of focus was how to engage young people, the future of our society. Fortunately, the French Ministry of Education's Académie de Paris was featuring a Japanese Arts and Culture Education Season, giving us the opportunity to teach students at secondary schools in Paris about Japanese culture. Members of the Youth Parliament of the Ile-de-France region also held a Jogging au soleil couchant (sunset jog), running between the event's 10 venues wearing logo T-shirts and happi coats. The Secretariat for JAPONISMES sent Yoshinori Tachibanaki, founder of the Japan-France High School Network (COLIBRI), to Paris to participate in youth-oriented PR activities for Japonismes 2018 events. I myself visited several high schools, where the enthusiasm that young French people have for Japanese language and culture was palpable. A number of French high schools are already starting to build partnerships with the Japan Cultural Institute in Paris and French high schools for Japanese language education and other areas, forming a key part of Japonismes 2018's educational legacy.

A Challenge for the Japan Cultural Institute in Paris

 Even for the Japan Cultural Institute in Paris—the largest Japanese cultural facility outside Japan—Japonismes 2018 was a major challenge. There were countless diverse events to plan and execute not just in Paris, but throughout France. Coordinating between the Japanese and French organizers to pull this off was harder than any of us imagined.
 The art exhibitions, film screenings, lectures, workshops, and other events made full use of the Institution's facilities on a scale never seen before. An event information center was set up on the ground floor, where life-sized statues of Hatsune Miku and Shin-Godzilla greeted throngs of visitors, young and old, many of whom had never been there before. The network we built through close collaboration with numerous French art museums, theaters, and other cultural facilities will serve as a foundation for even deeper cultural exchange between France and Japan in the future.


The information center on the ground floor of the Japan Cultural Institute in Paris provided visitors with information on Japonismes 2018 events.

The Road to Cultural Diplomacy

 France's former Minister of Culture Jack Lang, who is well versed in Japanese culture, has stated on multiple occasions that "Japonismes 2018 is a gift of the highest order to France." The event was essentially a joint French-Japanese project, with the official program selected through bimonthly meetings of a French-Japanese committee launched in 2016 and headed by the Japanese ambassador to France and the French Vice Foreign Minister. Japonismes 2018 has strengthened partnerships not only between the leadership of both countries, but among individual artists and citizens as well.
 The success of this epic cultural event prompted French President Macron to announce in September that there would be a yearlong French cultural event in Japan in 2021. That, in my view, shows that culture is a tool of diplomacy and part of Japan's "soft power." This flagship project would not have been possible without the support and cooperation of private companies in France and Japan, and the fact that it succeeded on such a historic scale is both a source of pride and a valuable asset for the Japan Foundation.
 We can utilize the experience of Japonismes 2018 in planning future high-quality and comprehensive Japanese cultural events overseas. Furthering the cause of cultural diplomacy in this way is, I believe, part of the Japan Foundation's mission.