Japanese Speakers' Forum, an embodiment of 21st century skills
— A report on "Think MOTTAINAI!! Changing our Mindset to Save Earth" in the Philippines —
Mamoru Morita
The Japan Foundation, Manila
The Japanese language is taught at 57 public junior and senior high schools in the Philippines, mostly in Manila and Cebu. The Japan Foundation, Manila (JFM), at the request of the Philippine Department of Education, supports local Japanese-language education through activities such as teaching materials development and teacher training. The JFM also assigns Japanese-language specialists to provide day-to-day support for classroom learning and events at secondary education schools in Manila and Cebu. One of the projects that is a very big focus for the JFM throughout the year is a unique exchange program called the "Japanese Speakers' Forum."
Japanese Speakers' Forum: A gathering of "Nihongojin"
Co-run by the Japan Foundation and the Kamenori Foundation, an organization that supports youth exchanges between Japan and Asia/Oceania, the Japanese Speakers' Forum is a program for junior and senior high school students who study Japanese in five Southeast Asian countries: Indonesia, Thailand, the Philippines, Vietnam and Malaysia. The Japanese name for this program refers to Japanese speakers as "Nihongojin" (literally, "Japanese-language people"), a term that may be new to even many native speakers. We define Nihongojin as people who desire to use Japanese to achieve some purpose in the international community and who communicate in Japanese to reach that goal. Naturally, non-native learners at this level are limited in their ability to communicate in Japanese, so Forum participants effectively use diverse communication tools to cultivate strong bonds with one another—not just verbal communication in languages such as Japanese and English, but also other forms of expression like singing and dancing. The Japanese Speakers' Forum was launched in the Philippines in 2014, and in 2017 it evolved into a program for local and Japanese junior/senior high school students to collaborate in developing solutions to various challenges. The participants from Japan are students selected by the Kamenori Foundation under the Kamenori Teen Ambassadors Program. I would like to report on the latest gathering, which was a three-day camp held in the suburbs of Manila in January 2019 under the theme of "Think MOTTAINAI!! Changing our Mindset to Save Earth."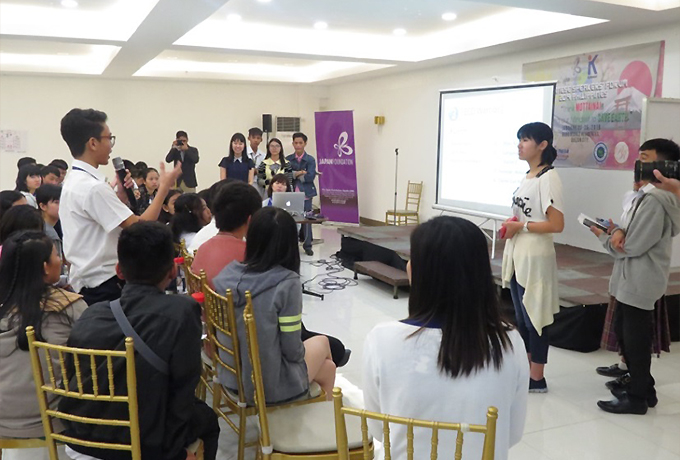 Q&A at the final presentation session
Tackling challenges with strong teamwork
The event marked the sixth hosting of the Japanese Speakers' Forum in the Philippines, and as with previous installments the participants were publicly recruited. The Filipino students and mentors were selected by the JFM from schools offering Japanese-language courses, and the Japanese students were chosen by the Kamenori Foundation. Altogether, more than 60 people took part in the Forum. The participants worked in groups to identify and discuss ecology-related challenges and produce materials for their presentations on the final day. As part of their preparations for the Forum, the participants researched common problems surrounding waste. In addition, the Filipino students studied Japanese, while their Japanese peers practiced speaking in simple Japanese that is easier for non-natives to understand. Given that Filipino junior and senior high school students can communicate in English, one may rightly think that having the Japanese students speak in English would facilitate smooth exchange between both sides. However, in order to have all participants share their time together as Nihongojin, various steps were taken to encourage the participants to avoid using English and instead communicate in Japanese as much as possible.
On the opening day, a keynote address was given by Ryo Sugawara and Cham Grumo of Ikaw-Ako, an environmental NGO based on Bohol Island that seeks to restore mangrove forests and educate the public on ecological topics such as waste sorting. To aid the understanding of both the Filipino and Japanese students, the presentation was given in mostly simple Japanese with some English mixed in, and the summary handouts listed keywords and important terms in both languages.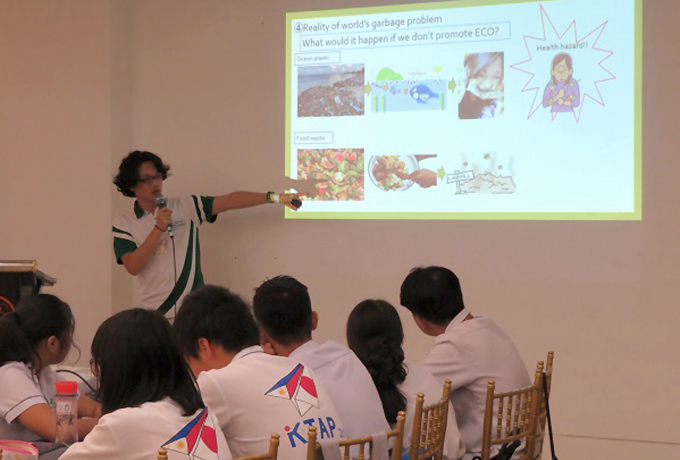 The NGO Ikaw-Ako's Ryo Sugawara gives the keynote address
That night, the students staged a fashion show in which they wore attire such as folk costumes and school club uniforms. It was a very lively event, with the participants introducing themselves and singing in Japanese. Apparently, one of the more striking sights for the Japanese students was seeing the Filipino boys instinctively extend their hands to the girls to escort them.
On the second day, the participants visited a nearby shopping mall to examine the degree to which eco-friendly practices are utilized. After returning to the Forum venue, they worked in groups to produce videos for raising environmental awareness. Though they had only half a day to craft their videos, they were able to share their ideas and brilliantly translate them to the screen. Whenever it seemed that their discussions would stall if they continued trying to communicate in Japanese alone, they would use English, gestures, and even drawings to move their work forward. As an IT-savvy generation, all groups were able to complete their awareness videos on time with almost no need to solicit filming and editing advice from the adults.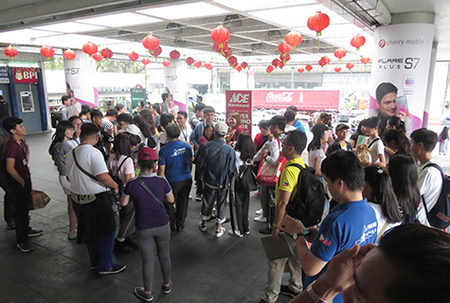 Participants entering a shopping mall to look for eco-friendly practices
Forum participants embody 21st century skills
Recently, one growing focus of discussion in educational circles has been "21st century skills." Comprising abilities such as critical thinking, problem-solving, and communication, these are a set of skills that the international organization named Assessment and Teaching of 21st Century Skills (ATC21s) has promoted as being essential to success in our globalized world going forward. Japan, like many other countries, is seeing a growing movement to re-examine educational programs and redesign learning objectives in the context of 21st century skills.
The students who took part in the Japanese Speakers' Forum in the Philippines used their command of foreign languages, IT, and other skills to craft their videos in a short time. As I watched them refine and enhance their creations by sharing opinions and retaping scenes over and over, I experienced the reassuring feeling that these were young people we can count on to lead our world tomorrow. With Japan's launch of the new specified skilled labor visa system this year, the number of foreign nationals working in Japan is likely to grow in the coming years. I think that in the near future we will see many more examples of Japanese and Filipino youths joining forces like they did at the Japanese Speakers' Forum in the Philippines, working together to create new value and solve diverse challenges in Japan and across Southeast Asia.
The videos produced by the participants in the "Think MOTTAINAI! Changing our Mindset to Save Earth" exchange program can be viewed on the following webpages.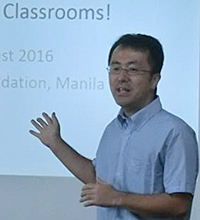 Mamoru Morita
Previously served as a Japanese-Language Specialist of the Japan Foundation, working in Egypt, the Czech Republic, Korea, and, up to April 2019, at the Japan Foundation, Manila. His responsibilities in Manila centered on providing support to Japanese-language education at the secondary education level.